A major milestone in the creation of a dairy engineering teaching facility was reached on 21 October when the first cows were brought into the new cubicle shed. 
The 140-cow dairy unit is part of a Wiltshire College & University Centre initiative which will result in an undergraduate Dairy Engineering course at the Lackham Campus, designed to equip students for the next generation of dairy farming, making the most of new technologies and techniques. Construction of the new teaching unit is being supported by the T H WHITE Dairy division and DeLaval in partnership with the College.
Plans were progressed through 2019 and the project was launched with the signing of an agreement of cooperation in January.  Although the objective had been to complete the unit in time to commence the new teaching course by the end of 2020 a number of unforeseen factors have caused delay.
Mike Howes, T H WHITE's project manager, explains: "At the start we faced the need to re-house bats from an old building that had to be demolished, then we suffered unprecedented rainfall which really set the construction back. In late March, of course, we had lockdown. You couldn't make it up!"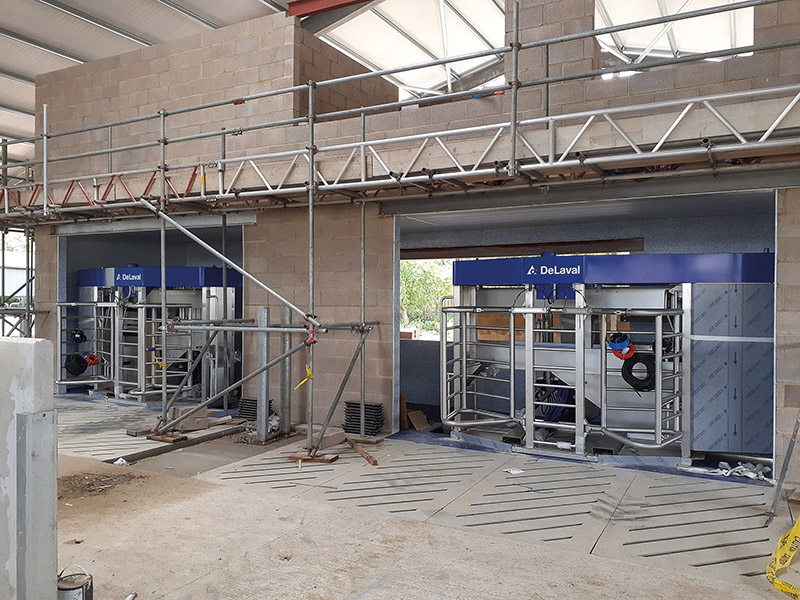 As soon as work became possible again the team really pulled the stops out and the structure of the new building was completed with flooring, drainage channels and internal walls soon installed. "By mid-October we had installed two DeLaval VMS robotic milking units, with a third one that will be used for training to be installed by the end of the year" says Mike.
"Now that the cows are in their cubicles and the slurry lagoon is operational, we expect to be milking with the new machines within four weeks. Given the setbacks, we are really proud that the new dairy unit will be ready for the first students in 2021."
Students who successfully complete the course will be awarded an HND in Agriculture (Dairy Engineering), accredited by Pearson.
To learn more about the Lackham Dairy Engineering Course, or to apply for a place starting in 2021, go to www.wiltshire.ac.uk.