PLOUGHING
Kuhn Farm Machinery's David Rose looks at how effective protection systems can keep you ploughing efficiently.
Plough protection systems are designed to allow a controlled and temporary breakaway of the plough leg when a potentially damaging impact occurs, thereby protecting the implement and minimising downtime.
Traction bolt or shear bolt?
Traction bolt systems offer an effective alternative to shear (or scissor) bolts. Traction bolts run in line with the force applied (shear bolts run across the line of force), and this fundamental difference offers a number of significant advantages.
On KUHN ploughs, the 16mm diameter treated steel traction bolt is designed to withstand a 3,000kg load at the share point, maintaining its full breaking strength right up to the point of fracture. There is minimal risk of distortion or jamming after fracture, making replacement quicker and easier than would otherwise be the case. A traction system also avoids the wear on support structures, as commonly occurs with shear bolt systems.
Hydraulic auto-reset
Non-stop hydraulic reset (NSH) is a step on from a spring operated mechanical reset system, involving a hydraulic ram attached to each leg with central pressure control through a high capacity accumulator. In its most basic state, the NSH system provides a constant cushioning effect, which reduces general stresses on the plough and the tractor, and offers easy and precise load settings from between 600 to 1300kg. Automatic re-engagement occurs instantly after the obstruction has been passed.
KUHN has built 20 cm of lateral shift into its NSH system, allowing shares to lift and move sideways to avoid an obstruction, and includes increased cylinder capacity at the first body, to take account of the additional strain at entry.
Further options allow the adjustment of pressure settings on-the-move from the tractor cab or (in difficult conditions) the basic NSH system can be over-ridden to extend the load at the share point up to 2,500kg.
Overall, hydraulic auto-reset systems are lighter than mechanical equivalents by as much as 25kg per leg.
SMART PLOUGHING
In order to meet the growing demand for precision farming, KUHN continues to innovate and has recently developed 'smart ploughing technology', an intelligent management system of the plough. The entire plough is controlled by the Isobus terminal in the tractor cab to improve both user comfort and ploughing. Exclusive functions on the Vari Master L smart plough include :
Smart ploughing lift – Individual and automated body lift
Smart ploughing line – Variable width via GPS
Ploughing quality is garenteed by the plough, meaning there's no need to be an expert to configure the plough. Smart ploughing is intuitive and easy to use.This technology is available on the Vari-Master L in furrow and on land mounted plough range.

Click image for Kuhn Smart Ploughing video
VENTA/HR Combination drills
The importance of drill adaptability to achieve optimum plant populations.
Modern drill combinations offer adaptability that helps achieve consistent establishment in varying conditions.
Few farms enjoy the luxury of a single soil type across all fields, and fewer still will encounter consistent establishment conditions within a drilling season, let alone from year to year.
Variability in soils, in the weather, and even in the crop being sown all mean that adaptability in cultivations and drilling is essential if optimum plant populations are to be achieved.
Seed drill combinations offer the most universal solution, and – in the case of KUHN's VENTA 1030 + HR 1040 series units – the degree of adaptability and precision capability reaches new levels.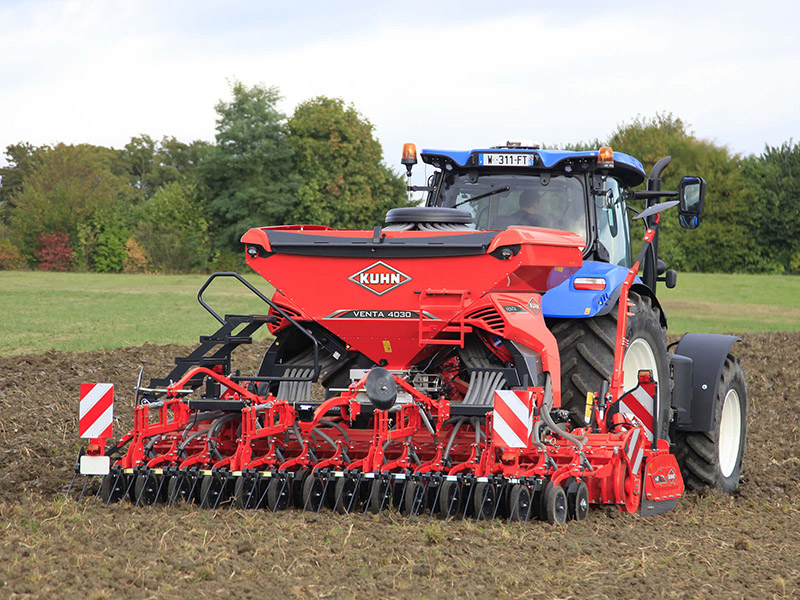 This new generation pneumatic drill combination offers operator-friendly adjustment of all the key parameters involved in seedbed preparation and seed placement, ensuring performance is easily tailored to whatever conditions prevail.
In terms of seedbed preparation, working depth of the new series HR power harrow is hydraulically adjustable from the tractor cab, as is the position of the levelling bar, whilst the pressure of the covering harrow can be easily set according to conditions or seed type.
Seeding depth is determined by varying the pressure applied by the SEEDFLEX double-disc coulters. This setting is applied for the firmest soil conditions in the field, which then allows the 5cm wide following press wheel to control seeding depth at each individual coulter in any softer areas.
For those taking the progressive step to variable seed rate application (VRA), whereby seeding rate can be adjusted on the move in accordance with field map data, the electric metering unit gives the drill full capability to achieve this level of precision farming.
As a combination, the VENTA 1030 + HR 1040 series units have a patented roller frame design that means tillage and seeding are carried out independently, adding further versatility. This design creates a compact and well-balanced machine and allows the two units to be coupled or uncoupled in less than 10 minutes.
MyKUHN – Parts when you need them most!
FREE ACCESS TO SPARE PARTS CATALOGUES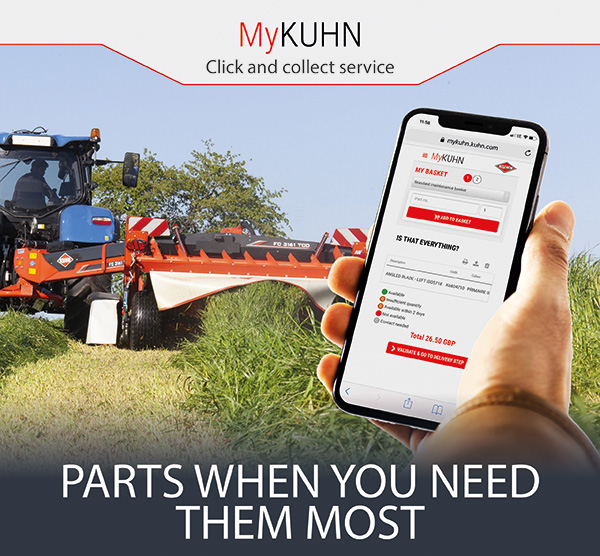 MyKUHN offers FREE access to your machine spare parts catalogues. Both printable and online interactive formats are available for you to use, even when purchasing used equipment.
MYKUHN CLICK & COLLECT SERVICE
With quick and easy online access to KUHN's entire spare parts catalogue and individual machine schematics, featuring parts RRP, you will be able to easily identify and order genuine KUHN spares with minimal effort and ready for collection at your local T H White depot using the Click & Collect service. It's also an easy way to store wearing part references that you may need to order in the future.
Visit MyKUHN mykuhn.kuhn.com/uk/
KUHN SeedSet App
Optimise your seed drill settings!
Kuhn has developed a calibration assistant application to help you to determine the appropriate settings for your seed drill and seeding conditions (seed type, quantity, etc). This application will also provide you with a seeds/m² to kg/ha convertor.
Available on Apple App store and Google play.
Click HERE to get it at the App Store
Click HERE to get it at Google Play