Mechanisation of ration mixing and feeding has resulted in significant efficiencies for beef producer James Moody, who runs a unit of around 250 cattle.
James first tried a second-hand diet feeder in 2017 and the improved presentation of the ration led to an immediate increase in growth rates, cutting finishing times from 28-30 months to 14-18 months. A year later he upgraded to a more efficient Kuhn vertical auger diet feeder, adding faster mixing and more adaptable feed-out alongside the improved performance of the cattle.
This two-step transition to a fully mechanised system has revolutionised the beef enterprise which now makes full use of varying forage types, cereals and straw, all produced on the farm.
James' system is to buy in beef-cross calves from the dairy industry at around 10 days old, rearing these on milk and introducing them to a transition ration including grass silage, chopped straw, beef rearer nuts, protein, minerals and half a kilo per head of rolled barley. This transitional ration, fed from 10 to 12 weeks of age, is mixed in the 15 cubic metre capacity Kuhn Profile single vertical auger diet feeder. The machine has a programmable weighing system, which enables accurate loading of the ration components and allows James easily to add extra barley before moving on to feed the older cattle. "That means I'm not making up two entirely separate mixes and can be a lot more efficient," he says.
When upgrading his diet feeder, James opted for a Kuhn Profile, a compact machine with a built-in frame which has proved ideal on a farm where access to sheds can be variable and limited. With a single vertical auger designed to handle a full range of forage types efficiently, the new diet feeder has cut mixing time significantly.
Kuhn's Profile diet feeders are versatile machines, with up to 147 possible permutations in the set up. In James' case, the Profile can feed out from either side from a front continuous belt conveyor and has the Flexi-Lift telescoping and tilting distribution conveyor fitted on the right hand side to allow access to a range of different trough heights.
New FLEXILIFT tilting conveyor added to KUHN's trailed mixer wagons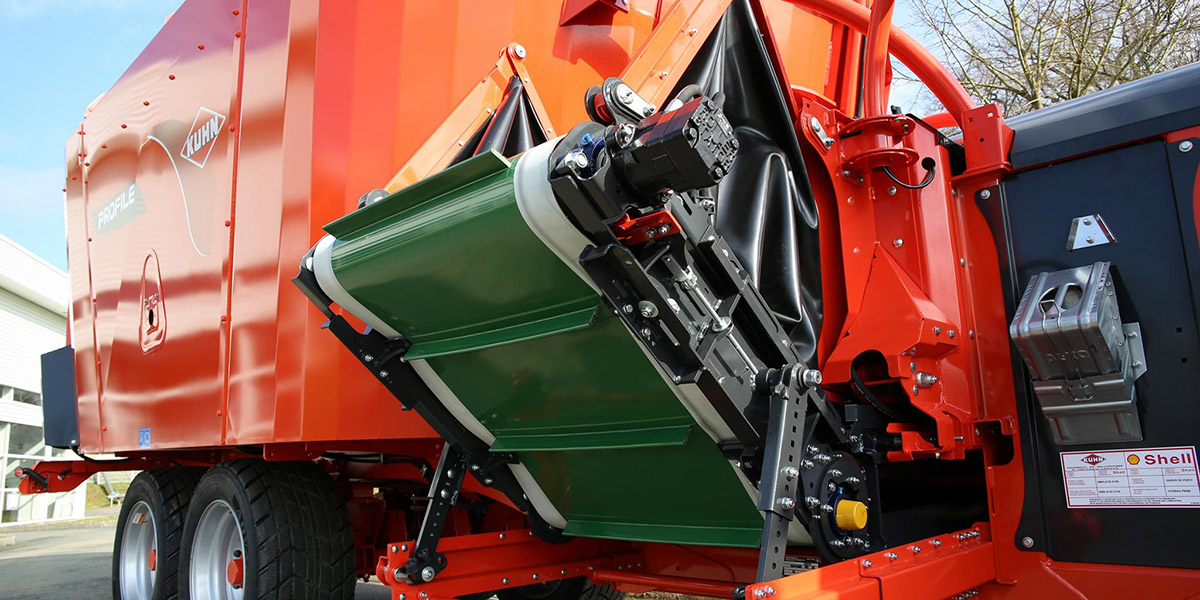 KUHN Farm Machinery has upgraded its range of PROFILE trailed mixer wagons with the addition of a telescoping and tilting distribution conveyor belt.
The patented FLEXILIFT conveyor is available as an alternative to a standard cross-conveyor on all new KUHN PROFILE mixer wagons and is designed to make it easier to distribute feed in buildings where space is limited: the reversible, cradle-shaped conveyor can be offset laterally via a telescoping mechanism to distribute feed to either side of the mixer wagon. One end of the conveyor (either left or right as determined when ordering the machine) can also be tilted by up to 45 degrees, enabling feed to be delivered to troughs up to 1.2 – 1.3 metres in height.
"Unlike other variable height distribution systems which typically use two separate conveyors – one cross-conveyor and one tilting belt – the FLEXILIFT system uses a single, continuous belt to ensure all feed is distributed cleanly and accurately without any material being lost in the joint between two separate conveyors," explains KUHN Product Specialist, Katie Calcutt.
The tilting end of the FLEXILIFT conveyor is raised and lowered by a connecting rod system which enables feed to be distributed at a range of heights without the conveyor needing to extend beyond the mixer wagon's original footprint.
The conveyor itself uses an endless PVC belt with a vulcanised weld for extended product longevity. It is driven by two hydraulic motors – one at each end of the conveyor – for improved belt traction irrespective of which side feed is being distributed to.
KUHN Click & mix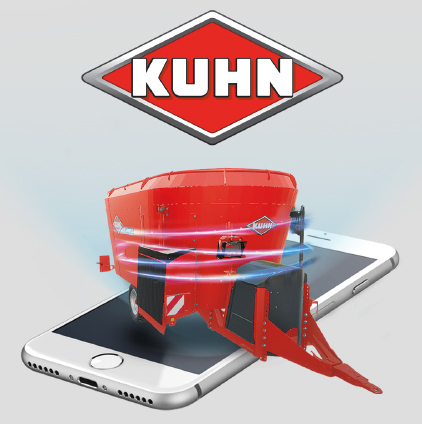 Mixing capacity and ration requirements, together with the dimensions of buildings and feeding areas, are important points to consider when choosing a mixer that will be used in everyday feeding operations.
Kuhn Click & Mix is a new application designed to help you discover which TMR mixer can meet the needs of your operation. It's available from the Apple App Store HERE and Google Play HERE.