Probably the most useful piece of kit for anyone responsible for mowing private or commercial grounds, parkland  or sports facilities is a tough and super-reliable ride-on mower, and they don't come any better than Iseki cut and collect machines.
More than 80 years experience in the design and manufacture of mowers and tractors has given Iseki the know-how to deliver compact and mid-size machines that professionals can rely on. High performance and operator comfort, together with the ability to work efficiently all the year round, in all weathers and on all types of terrain, adds up to a winning combination.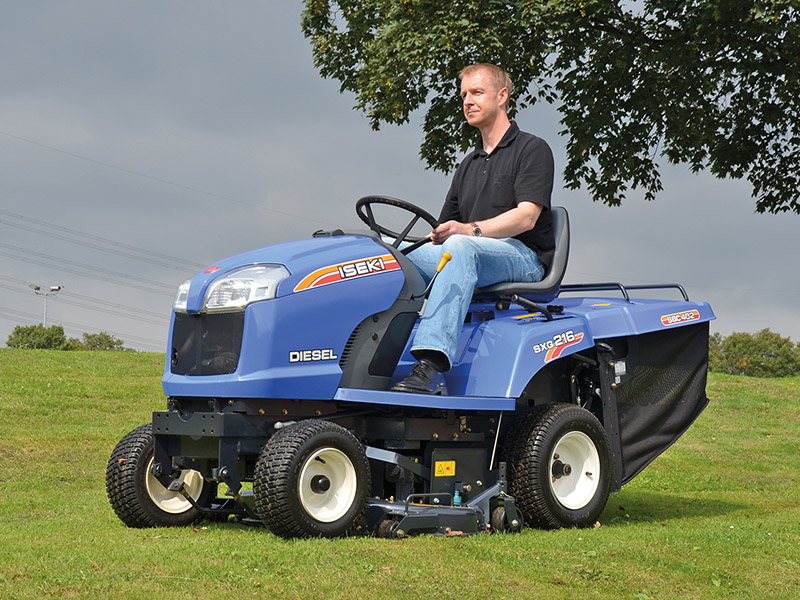 At the compact end of the range the Iseki SXG216 is the perfect solution for home owners who want an easy-to-use mower that cuts and collects in the wet like no other. Despite its smaller size its diesel engine gives it plenty of power and it has a 320-litre collection capacity with blower-less collection, plus a hydraulically assisted tipping collector which is easily removed.
Stepping up a notch, the highly popular Iseki SXG323 features a 48in-wide witting deck with dial-in height adjustment, matched by an 1123cc 19hp diesel engine offering a great balance of power and fuel efficiency.
Larger again is the Iseki SXG326 with a 54in mower deck, an impressive 600-litre collection hopper and high dump as standard. If you want to combine your mower with all the benefits of a small tractor, The Iseki TXG237 is robust enough to take a front loader, back hoe or other implements via a Cat 1 three-point hitch. Its independent PTO, switchable 4-wheel drive and high ground clearance make it suitable for many other duties too.
When you have a lot of grass to cut the Iseki SZ330 offers a choice of a 60in or 72in width of cut, but it's also a zero-turn mower, making it highly manoeuvrable for getting into tight spots.
For ultimate high productivity the Iseki SFH240 would be hard to beat. It has an out-front rotary with counter-rotating blades which will cut in all conditions, coping particularly well with long, wet grass. The high-dump hopper has a clearance height of 1,900mm, but the SFH240 can also be supplied as a mulching machine without the blower and collector.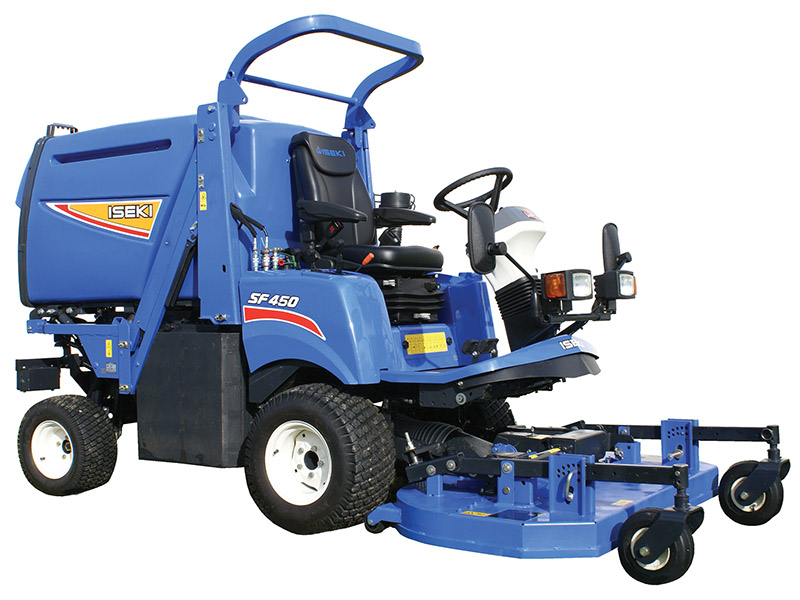 The big daddy of Iseki mowers is the SF450, a large capacity, centre-collect rotary mower with a 60in deck and 1,300-litre hopper, plus a powerful 46hp diesel engine.
There's an Iseki cut and collect mower for almost every application. You can find out more or book a demonstration by contacting any T H WHITE Groundcare branch.