It all started when Robert Banwell needed a new baler at Mill Farm, Wedmore, on the Somerset levels. After looking at the market and talking with T H WHITE's Stuart Crook, he decided on a Case IH RB455 round baler – but he wanted his new baler to be a little different!
A member of Robert's family had been receiving treatment for breast cancer and in recognition of the help she had been given Robert decided that the baler should be finished in the pink shade that has come to symbolise breast cancer awareness.
The T H WHITE Pro Agri team were delighted to co-operate with Robert's request and the new baler was duly despatched to Barnes Coachworks in Frome who completed a superb spray paint transformation. As soon as it was delivered to the farm the baler was put to work to produce the extensive stock of hay bales that Robert needs for his popular livery yard. The Case IH BR455 was more than equal to the job, making hundreds of tight and dense bales ready for the year ahead, but Robert's poor old tractor was struggling. The new baler was altogether bigger and heavier than Robert's old one so he decided the time was probably right for a new tractor as well. Of course, it would have to be pink..!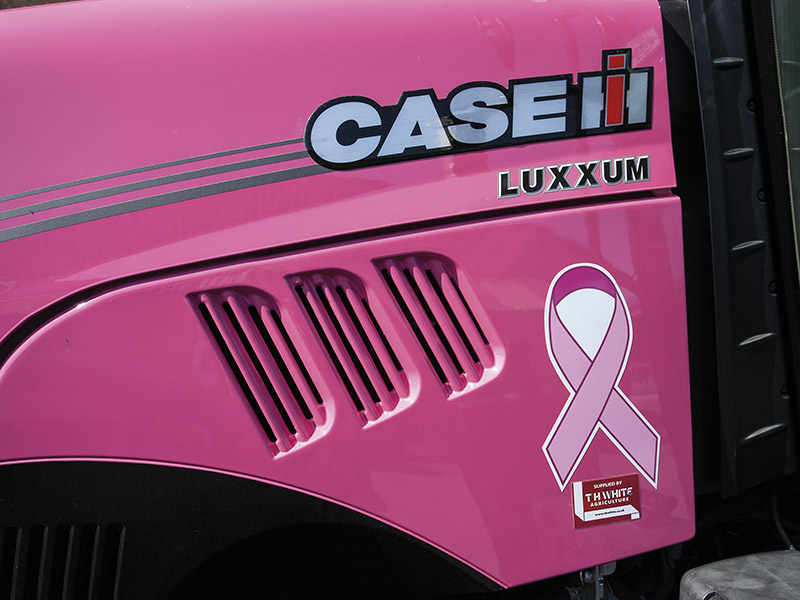 After further discussion with Stuart Crook, Robert Banwell decided on a Case IH Luxxum 110. "The Luxxum is perfect for the job," he says. "While being modestly sized and economic, it has plenty of power to drive the baler and the rear end is built to cope with the extra weight. The 110 sits in the middle of the range and its specification is outstanding for a tractor of this size, making it a pleasure to use."
T H WHITE again arranged for the new tractor also to be sent to Barnes Coachworks and when it returned not only was Case IH insignia applied, but also the pink ribbon breast cancer logo. The finished tractor was delivered to Mill Farm at the end of July so missed this year's baling, but Robert is looking forward to using the combo in 2020.
One thing is certain – if you are around the Wedmore area and you see a pink tractor on the road, you'll know who's driving it!