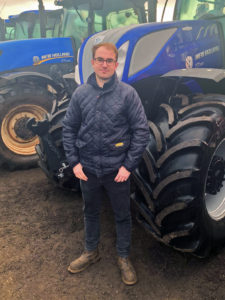 Having first joined T H WHITE Agriculture in 2018, and following a brief spell at Murley's, Ian Griffiths is delighted to be back in the fold at our Stourport branch – as the newly-promoted Agricultural Service Manager!
Ian's journey began with a land-based technology course at Lackham College, whilst working at a local Case/JCB dealer in the Cotswolds. He then took on a role as a service engineer at our Knockdown depot, where he learnt the ins-and-outs of a wide variety of machinery – rebuilding gearboxes and servicing power-units on everything from combines and balers, to tractors and telehandlers. Joining from Lackham with his twin, Scott (who still works at our Knockdown workshop), their skills and experience were quickly put to good use.
However, the earth quite literally moved for Ian after meeting his partner – relocating to Herefordshire in 2020 and settling down to life on his partners family farm. With the move, came a new employer – the local machinery specialists, Murley's. But not a change in role, as Ian continued to service agricultural machinery, expanding his broad base of machinery knowledge further still.
And as luck would have it, Murley's agricultural business was acquired by T H WHITE a year later, seeing Ian reunited with his former employer! "It's an exciting time to be at T H WHITE, Stourport," says Ian. "I'm embarking on a new role as Service Manager, and lots of refurbishment work has just been started, including plans for new offices and meeting spaces."
As for the role itself, Ian believes it will mean more focus can be given to both Agricultural and Construction servicing – allowing Chris Walters, who previously managed the servicing of both divisions, to focus solely on the Construction side. "I have a great team of experienced engineers to work with, which I'd like to grow," continues Ian. "I plan to add several new apprenticeships over the coming months, to further support our customers."
As well as relishing the challenges of his new managerial role, Ian also likes the challenge of the outdoors – recently hiking up Mount Snowdon, Scafell Pike and Ben Nevis with his partner and their dogs.
Keep on enjoying the journey, Ian!