T H WHITE Groundcare representative Harvey Brooke is the first to admit that he's obsessed by grass. "It began when I was no more than 8 years old, when I started cutting the grass at home for my dad. I just loved doing it!"
His passion for perfect greensward continues to this day – both at home where he admits to mowing his lawn at least three times a week in the growing season, and through his job with T H WHITE – with 11 years before that which he spent working at Redditch Golf Club where he eventually became Deputy Course Manager.
"It's strange really, coming to Groundcare sales from the perspective of having been a customer. When I was at Redditch Golf Club Simon Bingham used to come in as our local T H WHITE rep and I always remember how his enthusiasm was both infectious and helpful. If we had any problems on the course he would always try to come up with the best solution. I never thought that one day I might be doing that job.
"It was in April 2018 that I saw the sales post advertised at T H WHITE's Redditch branch. I applied and, to my astonishment, I was offered the job. When you start a new job you never really know how good you are going to be, but the customers I went to see were really welcoming. Of course, it helped having been on the 'inside' maintaining a golf course – many customers already knew me from those days and they rapidly gave me their confidence in knowing that I wouldn't try to sell them something that wasn't going to be suitable."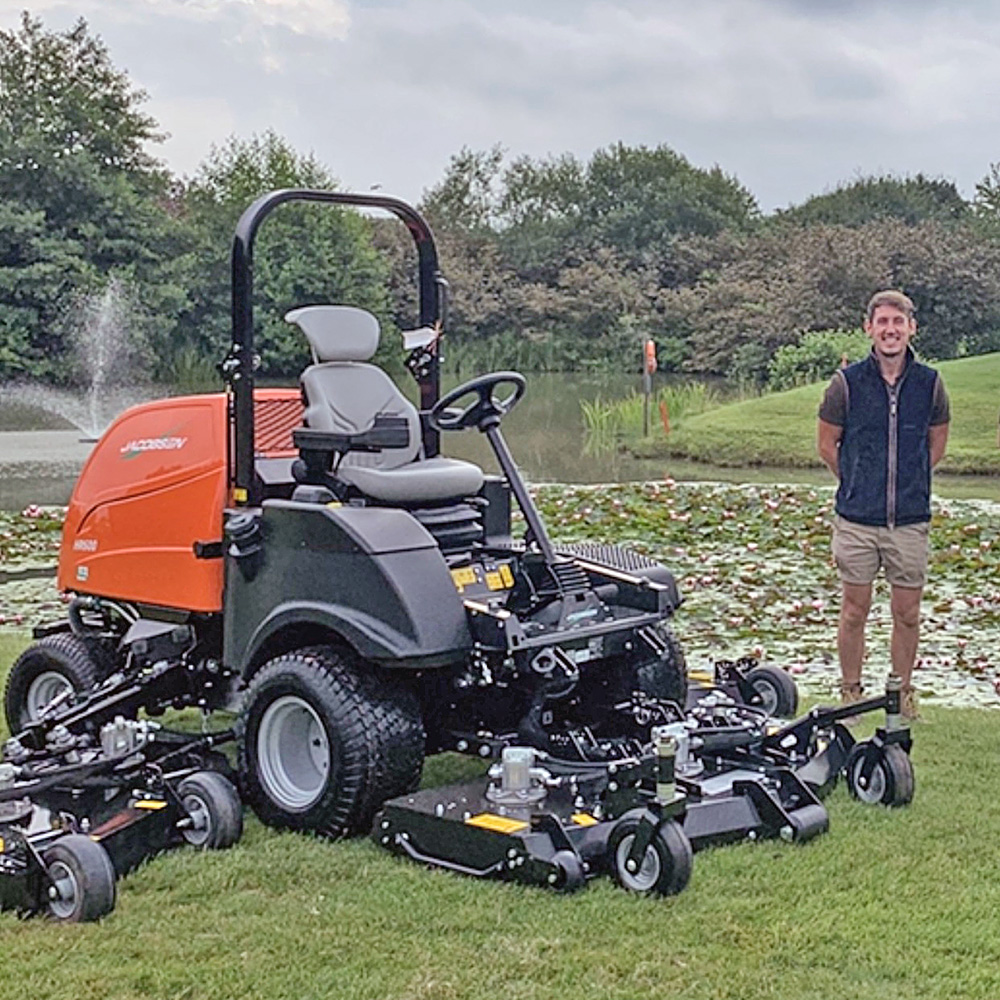 Today Harvey's 'patch' covers virtually everything west of the M5 to the Welsh border, from Ross-on-Wye in the south to Wolverhampton in the north, including much of the Birmingham-Wolverhampton conurbation.
"Having been a member of BIGGA – the British and International Golf and Greenkeepers Association – I felt comfortable in the golf world, but it was a different story going to see customers in the municipal sector where the approach is very different. Rather than thinking about equipment that would help them achieve perfect grass around a tee, the council teams have a tough job to do on a tightly controlled budget, so they quite often know exactly what they want, but we are always ready to give impartial guidance if they are unsure. I always remember going in to see the teams at Dudley and Sandwell the first time – it was a different world from golf, but you soon get to know the operators and build a relationship of trust.
"I am proud to have been able to solve a problem for Birmingham City Council too. The team there needed a trailer with a lift arm grab. Rather than going to the expense of a bespoke BIGAB trailer, I managed to source exactly what they needed as a stock item from Eastern Europe. I can also lay claim to having sold not one, but FOUR Ransomes HM600 mowers – one of the toughest, most sophisticated and expensive machines that we offer – so I suppose I can say I'm doing all right!
"I find it hugely rewarding to apply the knowledge I have gained over my years in the groundcare business to deliver a positive outcome for a customer – often one that they may not have thought of. It's also gratifying to be able to contribute to the pool of expertise that sits within T H WHITE's Groundcare division, helping the team always to deliver great customer service.
"No two days are the same – I might be out delivering, demonstrating, or just talking to customers about the things they want to achieve and how we can help them with that. It's certainly busy, but it's a terrific job – I love it and I wouldn't want to do anything else."
Considering all that, it's surprising indeed that Harvey has time for anything else, but his enthusiasm for perfect grass spills over into his leisure time in which he has made quite a few turf-related videos. Search YouTube for 'How to get the perfect lawn'. What a character!
If you have a question relating to grass you can contact Harvey on 07483 038769, or email him harvey.brooke@thwhite.co.uk.