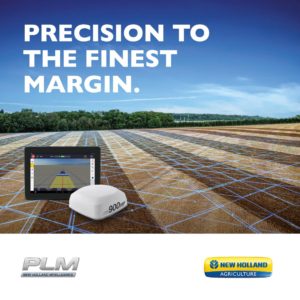 The range of technologies available to farmers to increase efficiency and profitability has never been better.  We understand the pressures on businesses today to tightly manage costs whilst increasing productivity and to focus on the environment.  The basic premise of PLM (Precision Land Management) solutions is to do just that.   We offer a range of New Holland PLM guidance solutions enabling you to download and analyse yield data to fine tune your inputs and reduce costs.  These open systems are compatible with the majority of tractor makes and models and the connectivity and intuitive technology allows you to make key decisions in real time.  Take a look at our packages on offer:
–
Standard New Holland PLM Completion Kit – comprising a 392 Receiver & Nav Controller interpreted through the Intelliview screen
The standard completion kit offers a range of benefits

time and fuel savings through no overlap or misses in tractor runs
great efficiency in chemical use reducing costs and wastage
less operator fatigue
ability to easily swap between New Holland tractors & Combine/Harvester
This kit is suitable for Auto Guidance Ready (AGR) compatible tractors.
Priced at £6,775 fitted
–
New Holland's EZ-Pilot Pro PLM Solution which comprises a 1050 XCN screen with integrated Nav900 guidance controller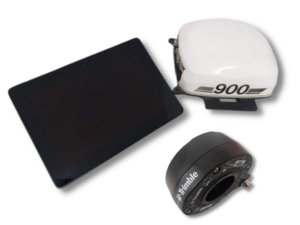 This cost effective solution can be fitted to any tractor model as the motor is connected below the steering.   Suited to older or smaller tractors, this kit is ideal for self-propelled sprayers and older tracked vehicles applications
Example pricing – Fit to a T7.210 tractor non AGR ready tractor for £8,635
New Holland's AutoPilot Motor Drive Steering solution which consists of a 1050 XCN display screen with NAV 900 Receiver?
This solution can fit any tractor make or model fitted with CAN steering.
Example pricing – Fit to a T7.210  AGR ready tractor from £7,170
New 'RAVEN' GPS solutions landing this month
We are excited to announce that Raven GPS equipment is coming to us soon – register your interest today.  Traditionally known as the liquid application specialist, Raven is now providing autonomous solutions and GPS that bridges the gap from no guidance to a full completion kit.
These comprise a CR12 Display and RS1 Receiver

Each solution is backed by on-hand support from our PLM specialists alongside and all solutions can be configured with optional extras such as mapping, variable rate and section control software.  The level of precision you need is often unknown and we are here to solve your farm challenge.  Speak to our PLM specialists who will talk through your goals and help design the right solution for your individual requirements.  Call Mike on 07887 450200 or Tom on 07584 109561.