With models available for all GVW truck chassis variation, Palfinger UK offers the widest range of hookloaders on the British market. 
Able to handle a variety of different container lengths, with low transport height and increased tipping capacity, Palfinger hookloaders enable you to move more containers more easily.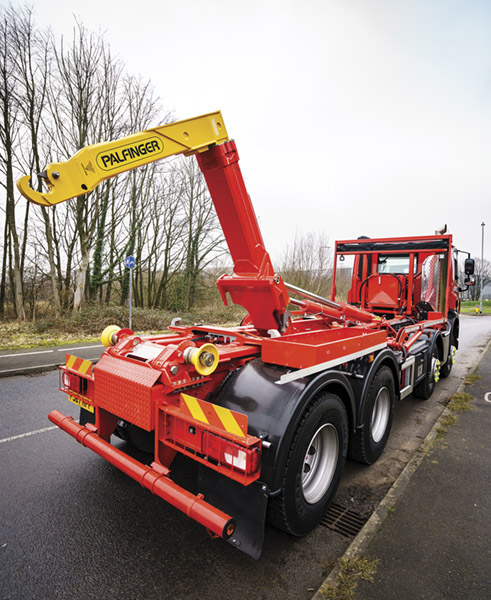 High tensile steel is used to reduce the weight of the hookloader too, delivering increased payload, meaning each lift will earn you more money, fuel costs are reduced and the life of your vehicle is increased.
Flexible and robust with low dead weight and great lifting and tipping capacity, Palfinger hookloaders are particularly suited for waste and scrap metal disposal, as Bithells Waste Management Ltd testified when the family-owned business took delivery of two brand new DAF CF 400s from Lancashire DAF, both fitted with Palfinger T22 Hookloaders supplied and installed by Palfinger UK. 
The dual cylinder Palfinger Telescopic T22 Hook loaders are equipped with an easy-to-operate Pro-Active Drive control system (PAD) and feature soft-stop landing, reducing shock or damage to both truck and bin. Their unique hook arrangement is perfect for handling a wide variety of containers.  
Palfinger UK, part of T H WHITE Group, is the UK importer of Palfinger products. As well as supplying lorry cranes, hookloaders and skiploaders. The company has extensive body-building facilities in Devizes, Falkirk and Bradford (Yorkshire). Call 01380 733513 for details or visit www.palfinger.co.uk.