Earlier this month, we welcomed three members of the Manitou Sales & Demo team to our Knockdown branch, where we hosted our first Manitou Telehandler installation training day. Being the first of its kind for Manitou, their objective was to equip our technicians with a comprehensive knowledge to improve the hand over experience of new machines, and to ensure that our customers get the best out of their equipment.
One technician from each of our Agriculture and Construction branches attended the training,  plus our Chief Demonstrator: Mike Quilter. For the safety of everyone, each attendee produced evidence of a negative Lateral Flow test before entering the building.
The training was led by Richard Felton, Anthony Hogben & Jim Hulme from the Manitou Sales & Demo team, whereby they delivered three different modules covering machine operation features; telematics and supporting material access.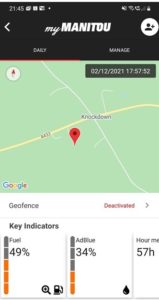 An important feature of the training was to ensure our technicians know how to efficiently use Manitou Group's "Connected Machine" solutions, which are accessible via a suite of tools adapted to each individual's needs: myManitou Mobile App, designed for the end user; and/or the EasyMANAGER fleet management platform dedicated to managers of several pieces of equipment.
Our technicians were shown how to synchronise the customers machine to the MyManitou app, to make use of the telematics feature that is fitted to every Manitou product that we sell. The "Connected Machine" solutions allow our customers to monitor key indicators about their machine including; fuel level, AdBlue level, hour counter and time to next service. The platforms also work as a fleet management tool, allowing our customers to set a basic geofence around their machines, which generates a notification if a machine moves out of a defined area. All of this information is accessible by our trained technicians, who have real-time access to the data to assist in early maintenance and remote support, plus reducing total cost of ownership and downtime.
If you want to get connected; contact your local branch today and our trained technicians will be happy to help you.
Contact your local T H WHITE Agriculture branch. 
Contact your local T H WHITE Construction branch.