One of the things we are most proud of at T H WHITE Agriculture is the depth of knowledge and personal experience among members of our team. 
That's particularly true at our Frome branch where all our sales representatives have a farming background and have often learnt the best way to tackle a task or solve a problem by doing it themselves the hard way.
Our reps are not just going to come in to try and sell you something – they will actually look at what you are trying to achieve, talk through the options and spec-up the right machinery to give you the best solutions at the best price. The whole team at T H WHITE understands the importance of long term relationships, helping our customers to thrive through generations, advising on challenges and developments. On a day-to-day basis, the team will often be able to carry out on-farm fixes on-the-fly where farmers encounter problems with equipment.
As it's now 18 months since the branch relocated from the old Vallis Road site to new premises on the western edge of Frome, we felt it would be an appropriate moment to profile the operation. Probably the most modern premises in the T H WHITE group, it serves a vast area spanning Somerset, North Devon as well as parts of Wiltshire & Dorset. The area is strong in mixed farming, with many small to medium-sized family farms with an emphasis on beef and dairy, but with less dedicated arable farming than some of the other regions served by T H WHITE.
Much of the equipment we supply from Frome tends to be small to mid-range New Holland and Case IH tractors, telehandlers, grassland equipment, slurry equipment, agricultural trailers, a range of implements and our big baler flagship product.  We also carry an extensive selection of used equipment.
Frome is also home to our Dairy Department managed by Nigel Ellis, who has been working closely with Agricultural Sales Director Ray Bennett to deliver a seamless and unified offering to dairy farmers. We will be looking at the Dairy Department in more detail in a future issue of White's World.
The sales team is fully supported by our sales administration colleagues – Dave Comer and Charlotte Osborne whose responsibilities include stock management and stock orders, processing sales orders, invoicing, warranty and delivery documentation across our wide range of machine franchises – together with Finance Specialist Faye Parsons.
A key part of our customer offering are our aftersales functions. The service  workshop at Frome has been run by Dave Rideout for over 15 years with his team of experienced technicians and several apprentices. Like all T H WHITE workshops it is equipped with the latest diagnostic equipment and run by accredited, manufacturer-trained technicians. The Frome Parts Store is run by Steve Marshman and his team who keep a large stock of agricultural and dairy parts with thousands of genuine lines in stock, all with guarantees and ready for collection.
Our Frome Sales team is made up of Stuart Crook, our T H WHITE Pro Agri specialist for Case IH, Joe Woolley and Jamie Harraway specialising in New Holland kit, and Bob Gallop our Slurry specialist. We thought the best way to help you get to know them would be to let them introduce themselves in their own words…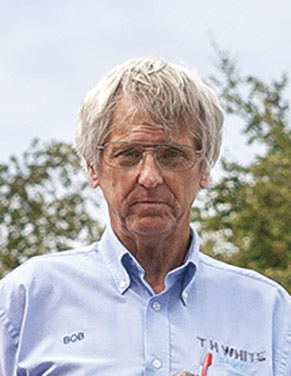 BOB GALLOP Slurry specialist
Working at the mucky end of agriculture as T H WHITE's Slurry Specialist may not be everyone's idea of a dream job, but it's a very necessary part of the cycle that delivers real benefits to our customers.
Landing this plumb role didn't happen overnight – it seems almost unbelievable to me now that it's 45 years since I first joined T H WHITE as a mechanic, working my way up the tree over the ensuing 13 years to become Workshop Foreman. In 1989 I left for a two year spell at a Deutz tractor and RABI equipment dealership in Westbury, before embarking on a wonderful adventure running a Ford tractor dealership workshop in Tanzania. Exciting as that was, it played havoc with family life so I returned to T H WHITE in Frome as an Area Sales Representative. In 2013 the company decided to appoint a Slurry Specialist and I have been doing that job since then. 
T H WHITE is a dealer for a select group of slurry equipment suppliers – Bauer for all fixed equipment, Hi Spec for tankers, Tramspread for umbilical equipment, Storth for auto scrapers and mixers and Vogelsang for applicators. Being able to represent them in this small sector of the vast agricultural industry means that I can offer a comprehensive and professional service. The territory I cover stretches from Hereford to Weymouth – with customers in all areas of livestock farming.
One of the most interesting innovations to have arisen in my time as Slurry Specialist has been the advent of the green bedding system in which cow slurry is recycled to produce bedding. It's still controversial among farmers who have not yet experienced the quality of this odour-free and sterile product, but I now have more than a dozen very satisfied farmers using the system.
When away from the muck I enjoy delving in another kind of mud – as an avid gardener!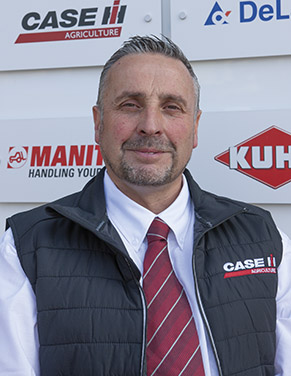 Stuart Crook T H WHITE Pro Agri
My introduction to agriculture came the hard way, with back-breaking work on the family pig farm with over 2,000 pigs. You can imagine my delight when I 'escaped' to Bath college to study building and construction, a booming industry at the time offering good money. A few fierce cold winters on construction sites soon changed my view of that and the warm, welcoming agricultural sector lured me back!
I started at a small Case IH agency – C E Davis & Co at Marshfield – and then moved to Boulters of Banwell where I spent several years as a sales representative.
Now, with more than 30 years in the industry and at T H WHITE for 12 of them, I have been able to develop and use my knowledge of the full Case IH product line-up as a specialist at T H WHITE Pro Agri in Frome.
There's nothing like first-hand knowledge of what goes into the products you are dealing with so I attend as many supplier factory tours as I can to learn about engines, drivetrains, hydraulics and, of course, new products.
When I'm out talking to customers I know I'm not just there to sell something – I am bringing them the whole 
T H WHITE infrastructure which extends from the service and parts back-up at their local branch, right through to the functions provided by Group support to ensure that they always benefit from the latest knowledge and information, the best offers and health & safety aspects. The company has a long history and a solid future – and there aren't so many you can say that about in these challenging times.
I take pride in many of the great business relationships I have been able to establish – not least the one with Bristol and South Gloucestershire Council. Whenever I see one of the red T H WHITE 
Pro Agri tractors at work in their neighbourhood it brings a smile to my face.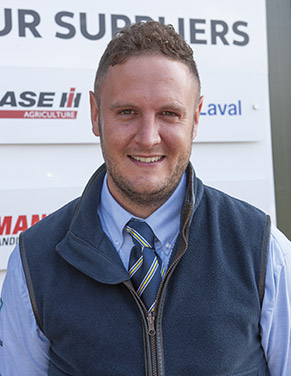 JAMIE HARRAWAY New Holland
I grew up on the family farm in Wrington which specialises in beef and sheep, as well as operating a livestock haulage business. I always knew that agriculture was where my future lay and I took a 3-year National Diploma in Agriculture at Cannington College before joining a farm near Bristol where I spent eight years gaining hands-on experience of dairy and arable activities.
After that I moved to Boulter Mead trailer centre where my daily tasks included sales administration, parts ordering and running the trailer workshop.
Eight months ago I took a step up by joining T H WHITE at Frome as a sales representative, becoming the newest member of the team there. 
A typical day will find me either at the dealership configuring new machinery, or out on farm meeting customers. 
And, if you would like a demo of a combine, baler, telehandler, tractor, drill, cultivator or any other piece of equipment, just give me a call.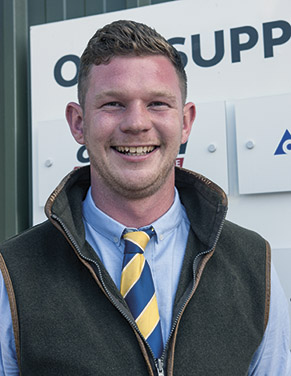 JOE WOOLLEY New Holland
My dad managed a farm in Devizes where I grew up surrounded by farmers and farm machinery.  I suppose I never really doubted that my career would be in agriculture and after leaving school I studied for an agricultural engineering degree at Harper Adams university. As part of that I spent a placement year working for New Holland aftersales at Basildon, covering UK & Europe. That was a tremendous year, working as part of a large team, learning how machines are built and  – even more importantly – which parts are most subject to wear and eventual failure, and how to fix them! That training was invaluable, giving me a solutions-oriented attitude – fixing things, keeping them running and helping people.
Following university I became a fitter in T H WHITE's Marlborough workshop, initially specialising in combines, subsequently moving to Frome where I gained experience on tractors. In 2015 I was successful in applying for a sales role, which I've been doing ever since. Being fully trained in both sales and service has proved extremely useful – I have been able to make quite a few impromptu fixes on farms!
A high that I'll always remember was the sale of two combines to Josh Stratton at J M Stratton & Co, Codford, which placed me in the top New Holland UK sales tier that year, winning an all-expenses paid trip to Barcelona to watch Spanish Grand Prix.
I love the buzz of big sales, meeting people, together with all the coffee and chat. Things have been so busy lately that I don't have a lot of time for hobbies, but I have just bought a house so there's plenty of DIY to do – and I'm passionate about shooting.