Tom Downes-Hopkins is ready to bolster the T H WHITE Sales team at Hereford after a successful career in the workshop.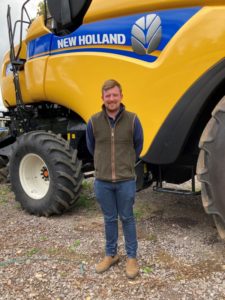 With thirteen years of engineering experience under his belt, Tom is now ready to swap his go-to tools of the trade from an impact gun and rachet to a laptop and mobile phone. Tom has taken an exciting step to join Ben Linton in machinery sales at our Hereford branch selling our premium brands – New Holland, Manitou, Kverneland and Väderstad to name a few.  He will focus on serving customers located in South Herefordshire and to the west across South Poweys and Monmouthshire in Wales.
A graduate of the New Holland backed Land-Based Service Engineering Diploma, Tom studied at Reaseheath College undertaking his apprenticeship with Ravenhill which was subsequently acquired by JG Plant and then became part of T H WHITE. Reflecting on the T H WHITE acquisition of JG Plant, he says the team has remained pretty much the same providing consistency of service to our local customers, but the branch has benefited from the investment and greater resources of the wider company.
During his days as a technician, Tom gained a wealth of knowledge across the whole product range with a more in-depth understanding of New Holland and Manitou products particularly.  He undertook numerous technical training courses – even doing his work experience at the NH Zedelgem Combine Harvester factory in Belgium. He plans to put this extensive machine knowledge to good use in recommending the right machinery solutions for the needs of arable, hops, beef and dairy farming operations found in the local area. Although this is his first sales role, Tom can sell with confidence knowing every piece of equipment from the T H WHITE portfolio will be looked after for its lifetime – having seen firsthand the excellent levels of support delivered by the service team at Hereford.
No stranger to the demands of farming as well as engineering, Tom comes from the family beef and sheep farm in Dilwyn North Herefordshire. Dad to a toddler and soon to be married, there's no time to slow down. Best of luck in your new role Tom!
To get in touch with Tom about your machinery requirements you can reach him on 07483 070854 or email tdh@thwhite.co.uk