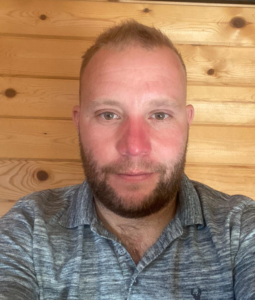 Meet Carl Skinner, who joined T H WHITE Dairy earlier this year based from our Frome branch. Carl has been with the company for around 6 months now and has spent most of that time out on the road covering a large area of South West England– servicing, repairing and helping to install DeLaval dairy parlours.
Born and bred in Tiverton, Devon, Carl got involved with farming and machinery at the age of 16 after leaving school. Helping out at local farms he did a bit of everything, from tillage to machinery upkeep and of course to milking cows. He took a Public Service course at East Devon College with a view to studying engineering in the Forces.  He had a keen interest in the Forces and whilst the course gave him a huge insight into army life and operations, Carl went on to pursue engineering on a different path.  He began working for Lloyd Maunders who are a Devon based group of retail butchers and a major producer of locally reared meat and chicken products.  Here, he was responsible for all kinds of general repairs around their beef, sheep and chicken farming enterprise.
Carl subsequently became focused on Dairy equipment, with jobs in Somerset and Devon where he became a certified service technician for milking robots. Looking to develop further within the industry, Carl put out a post on a Facebook group interested in connecting with other Dairy Engineers to discuss development opportunities.  The post was spotted by Chris Newey, our VMS Specialist working from T H WHITE Huntley. Chris reached out about the opportunity to join the team at T H WHITE Dairy and Carl jumped at the chance!  The rest is history – he has since settled in well and very glad for the variety that the job offers him; particularly being outdoors and on farm, being hands-on with servicing equipment or having great satisfaction when he is able to solve breakdown issues.
Outside of Dairy engineering, Carl has a lifelong passion for football and plays for Amory Green Rovers of Tiverton. Keen to pass on his skills to the next generation, he also coaches the Culm Sandford United Under 10 Junior Team. For a change of pace, Carl likes to play golf and walk his 3-year-old Sprocker Spaniel 'Ottis' in the countryside – especially taking in the views up on Dartmoor.
Welcome to team T H WHITE, Carl.