The all new Honda Pioneer side-byside has arrived! Honda has entered the growing UTV market in the UK with the launch of a terrific machine with the choice of two models capable of carrying either two or four people.
We attended the South of England launch at Heythrop Park in Oxfordshire, where we had the opportunity to drive across some varied and challenging terrain.
These were our first impressions: The Pioneer 700 is light, manoeuvrable and responsive – a delight to drive. Power is provided by a 675cc liquid-cooled Honda twin spark petrol engine and much work has been done to minimise vibration by incorporating low-lying balancing shafts and a rubber-mounted engine cradle.
Economical fuel injection ensures instant all-weather starts, while the three-speed automatic transmission with torque converter delivers immediate response from the throttle and with impressive downhill engine braking.
The dimensions are compact – the overall length is 2910 mm, the width is 1525mm. Unladen weight is just 574kg.
The Pioneer 700's go-anywhere ability makes it feel closer to an ATV in terms of performance, while the comfort level is superb. Thanks to fully independent suspension, disc brakes, two and four wheel drive with di ock, getting stuck was not something that was going to happen on our test drive as this sturdy UTV just kept finding grip, even when towing. The Pioneer is quiet too, we could easily hold a conversation while driving and at no time was engine noise obtrusive.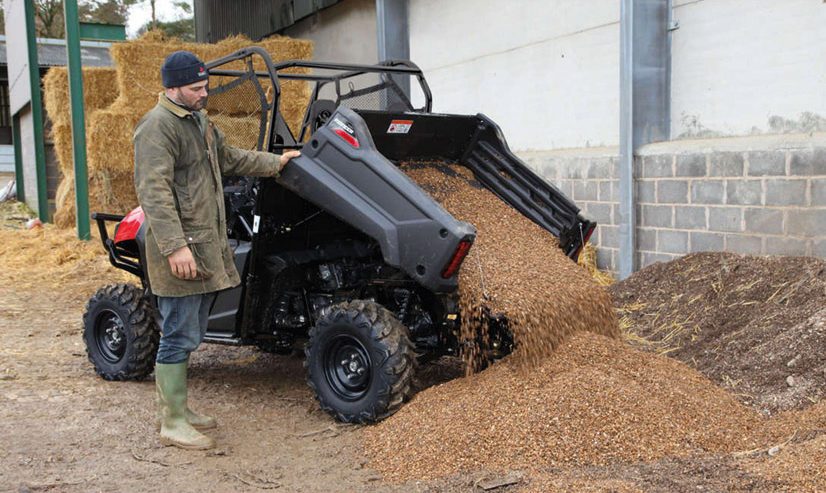 Our test model was fitted with a full cab and heater. We liked the protective doors which keep dirt at bay while still allowing easy access, there was plenty of space inside the cabin and visibility was excellent. A full Rops rollover cage is fitted as standard and there are retractable seat belts which cleverly limit engine performance if they are not connected when moving off.
All controls were positive and well laid out and although Honda has chosen not to fit power steering it is effortless and really doesn't need it. There is dashboard storage and two 12-volt charging or powering sockets as well as a digital display with service reminder.
The hydraulic tip-assisted rear cargo bed is a good size and will carry a payload up to 386kg, making it ideal for carrying animal or bird feed. The towing capacity is a respectable 680kg.
The 700-4 model features a unique Quick Flip seating system which converts the cargo bed from working to seating for two in seconds.
We were really impressed with the new Pioneer 700 – as we have come to expect from Honda it incorporates many innovations imbued with great Honda quality. It has pace and practicality without fuss and is most definitely worth trying.
Why not try the Pioneer for yourself? Please contact us to arrange a test drive on your premises. Your contacts are: Toddington branch: Tim Rochfort 07973 911934; Marlborough branch: Simon Knight 07860 712963; Frome branch: Stuart Crook 07831 2103882; Knockdown branch: Richard Morgan 07831 351379.