When it comes to seeding the Kuhn SITERA seed drill is a very easy-to-handle machine with centralised, continuous adjustment of seeding depth. Like the VARI-Master L plough, all the functions and settings of the SITERA can be controlled from the tractor cab via an ISOBUS terminal.
With a working width of 3.00m, it is compatible with HR 3020 / 3030 / 3040 power harrows and CD 3020 disc combinations. The SITERA seed drill comes with seeding units with Suffolk coulters, double-disc coulters or SEEDFLEX.
Seed distribution is now driven by an electric motor and a radar sensor precisely measures the work speed. All SITERA mechanically driven seed drills allow application rates from 1.5 to 450 kg/ha – the application rate modulation can be adjusted manually or automatically by GPS via an ISOBUS terminal. The seed drill can be switched on and off automatically via GPS at the headland.
See the Kuhn SITERA in action:
For extra help when choosing the right precision drill to suit your needs, you can download Kuhn's 'Click & Seed' app. Available as a free mobile or web app, it will guide you through factors including the different types of seeding, spacing and fertilisation. You can download it HERE.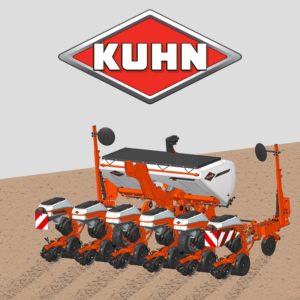 Of course, you can also talk to your T H WHITE rep!