Ever since Väderstad was founded in the 1960s the company's development has been directed at 'getting the best from your land' – a purpose shared by T H WHITE Group.  
Today considered to be the market leader, Väderstad's edge comes from its focus on essential drilling and cultivation tasks, creating the optimal soil conditions to maximise yields. Build quality and versatility also sets Väderstad apart, delivering amazing efficiency and productivity.
Planting is a key part of the cycle and the latest range of Tempo high speed planters deliver unmatched precision at double the speed of traditional planters in no-till, min-till or conventional tillage.  The crops gets the best start possible which results in an even emergence.
On traditional planters, the seed falls freely through the seed tube from the seed meter down to the soil. When vibrations arise as speed increases, the seed bounces in the seed tube and much of the precision of the seed meter is lost.
This is where Tempo, with its pressurised seed meter, stands out from the crowd.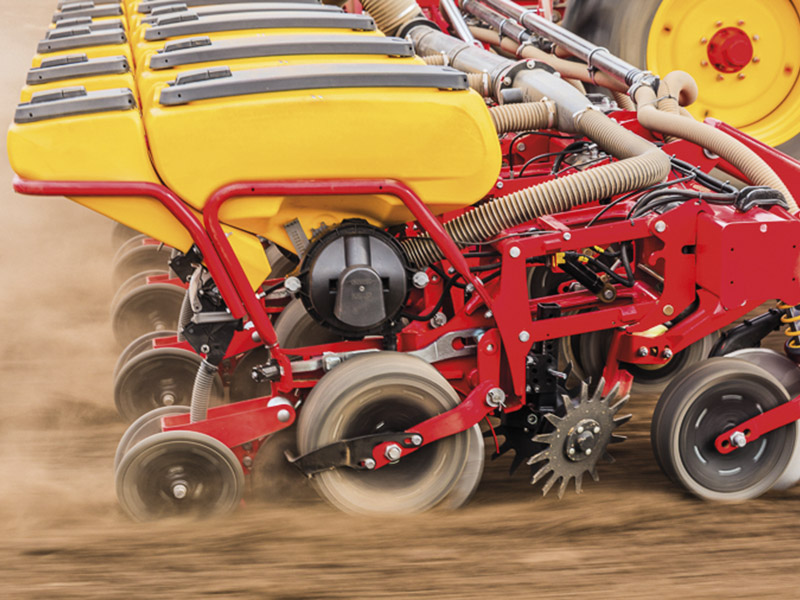 Thanks to the PowerShoot technology, which uses air pressure to maintain full control of the seed all the way down to the soil, gravity is removed from the equation so speed is not an issue for Tempo. This means that Tempo planters can achieve an unmatched planting precision in three dimensions – Length, depth, and width:
1. In-row precision – exact distance between each seed in the row.
2. Depth precision – exact depth of each seed.
3. End-of-row precision – individual row shut-off of the seed, fertiliser and micro granulate.
Equipped with hydraulic support wheels mounted between the row units, tilting in hilly conditions is avoided and the wide tyre profile maintains the working depth irrespective of soil type. Designed to fit most tractors, Tempo has a low hydraulic requirement, self-sufficient electric power and requires low draught force.
The Väderstad Tempo is available in models from four to 18 rows, meaning that there's one for every size of farm and application. A huge variety of crops can be accommodated too, including maize, sugar beet, soya beans, sunflower, oilseed rape and many more. The row spacing can be changed easily for different crops, while seed discs can be changed in a matter of seconds without tools.
T H WHITE can supply the full range of Väderstad Tempo planters, but we have 6-row and 8-row models in stock, ready to go. Contact your Agricultural sales rep for full details.
Interest free finance available!