The T H WHITE Projects Division has successfully designed and constructed three new on-farm grain drying and storage installations which, following commissioning and hand-over, have been operational during the 2016 harvest.
As reported earlier in the year, the three projects at Forest of Bere, Cobham Farms and North Hill Farms Ltd, were in the early stages of construction at the various sites, with the civil engineering works and steel frame buildings starting to take shape .
North Hill Farms Ltd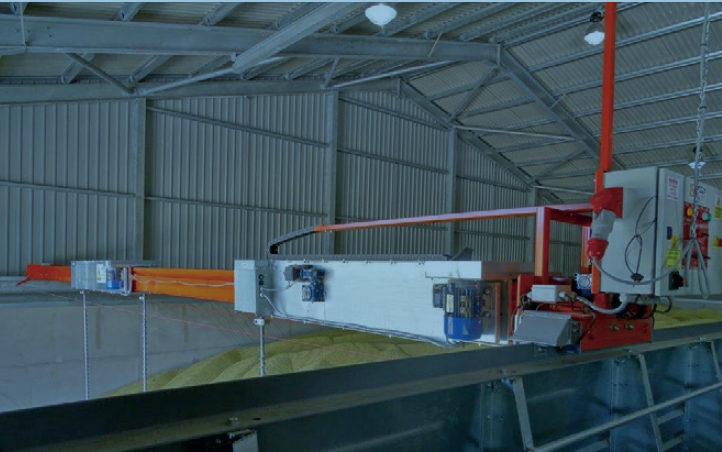 North Hill Farms Ltd part of the Wilton Estate, is located between the valleys of the Nadder and Wyle Rivers, where the landscape now boasts a new 2,800 tonne capacity Grain Store as a result of recent investment. The new facility has an olive green clad building with a floor area of 48 x 28m including a central dividing wall with two hardwood drying floor areas on one side and a large storage area for dry grain on the other.
Access to the store is via four tall roller shutter doors at the front and via the fan housing at the rear, which also provides the opportunity to walk along the top of the air duct and drying floor arrangement to view the stored materials and the associated stirrer unit in operation, as seen in the photograph.
Cobham Farms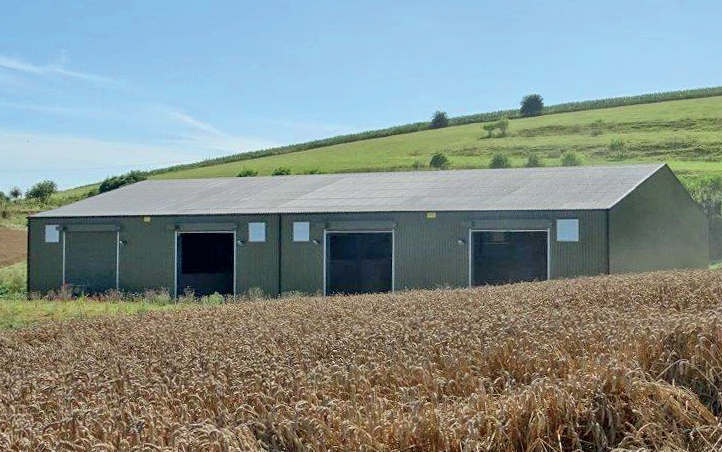 Located near Salisbury, the 2016 project investment by Cobham Farms has included the development of a new 2,500 tonne Grain Store which is set back into the hillside at the end of the approach road.
Following completion of excavations and groundworks to prepare the levels, the olive green clad, steel framed building was erected, complete with an internal combination timber drying floor covering 50 per cent of the available storage area, with a specially designed elevated fan house to feed the lower level air duct. The photographs show the site location at Cobham farm plus the drying floor being loaded through one of the four front-facing entrance doorways during the harvest.
Forest of Bere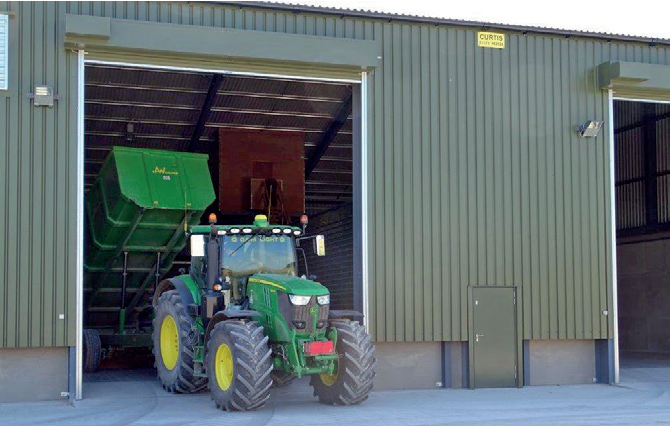 With the ability to hold 3,000 tonnes of combinable crops within its four 750 tonne bunkers, the new grain store on the Forest of Bere Estate near Stockbridge, Hampshire, is now complete. The 60 x 25m structure with a central dividing wall and two bunkers on either side has the ability to dry the grain via two sets of hardwood floors fed by central air ducts and a pair of fan housings to the rear of the building.
The juniper green clad Grain Store is one of several new farm machinery and operating buildings constructed as part of the project, together with an independent control room and weighbridge.
T H WHITE Projects specialises in grain processing and storage solutions of all sizes, from small farm installations to large commercial/industrial bulk facilities, taking each project from conception to completion. If you have a scheme you would like to talk about, please do contact us on 01380 723040 or email projects@thwhite.co.uk