T H WHITE's longstanding partnership with Japanese heritage ground care brand Iseki, offers you their full range of products and we've some great stock offers to be snapped up for a limited time only..
Iseki SXG326+ Low Ride on Mowers from £14,500 plus VAT
SXG323+ Ride on Mowers starting from £14,800 plus VAT
SXG216 Ride on Mowers starting from £7,700 plus VAT
Iseki TLE3410 Compact Tractors available from stock at £16,000 plus VAT
Iseki TLE3410 HST Compact Tractors available from stock at £16,500 plus VAT
Iseki TLE4550 Compact Tractors available from £19,500 plus VAT
Iseki TH5370 Compact Tractors starting from £19,900 plus VAT
Iseki TH5420 Compact Tractors starting from £26,000 plus VAT
Iseki TH5420 HST Compact Tractors starting from £24,900 plus VAT
Iseki TXGS24 Compact Tractors starting from £12,200 plus VAT
Iseki TM3267 Compact Tractors starting from £15,300 plus VAT
Iseki SF225 Outfront Mowers starting from £23,500 plus VAT
Iseki SF325 Outfront Mowers starting from £16,800 plus VAT
Iseki SRM 54″ Rear cutting deck mower from £1,950 plus VAT
Iseki, an industry leader in mowers and compact tractors has been trading in Europe since 1971.
The company originated in Japan in 1926 and has been instrumental in the development of agricultural and grounds care machinery for almost a hundred years.  It's well known cut and collect mowers offer high performance ride-on ground care, a choice of engines and cutting decks, and options such as high tip collectors and hydraulic emptying hoppers.  Providing fuel efficiency and reliability in wet or dry conditions these units are ideal in areas where a smartly finished surface and full collection are paramount.
Iseki's lightweight compact tractors offer excellent performance and efficiency to professionals and private users alike, despite sitting in the compact segment.  Perfectly suited for a wide range of applications from general yard and small holdings to sports pitches and orchards, they can be used with various implements such as mowers, grass collectors, front loaders, sweepers, blowers and blades.
Featuring high horsepower, simple controls, and a full 2 year warranty on all new products they are hugely versatile and excellent value for money.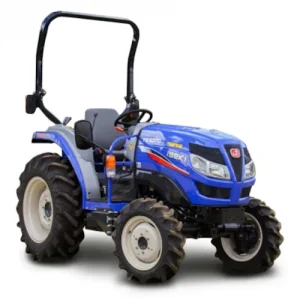 TG TRACTORS
The flagship TG range has reduced fuel consumption and extremely low pollutant emissions. The robust one-piece metal bonnet allows effortless access to the engine, and daily check items such as the dipstick can be accessed without opening the bonnet. A spacious factory fitted cabin is available on all models and fitted with air conditioning as standard. All control elements are extremely clear and positioned in a readily accessible manner within the field of vision of the driver, reducing fatigue.
TLE TRACTORS
This premium economy range of tractors feature high horse power and simple controls making them excellent value for money. TLE tractors can be used on a wide range of applications, from smallholders to sport pitches where budget is tight but you don't want to compromise on quality and horse power.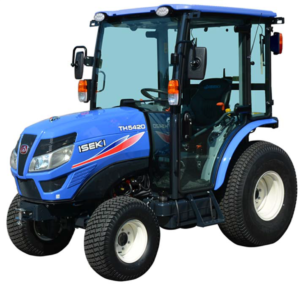 TH TRACTORS
The TH Tractor range has the quietest cabin in its class with an in-cab rating of 78 decibels. Available factory fitted with air conditioning, it is extremely spacious, and comes with suspension seat and adjustable, tilted steering wheel for ultimate comfort.
TM TRACTORS
Very lightweight, compact and highly manoeuvrable in tight areas, the TM Range of tractors are ideally suited to gardens, schools and small sports turf areas like tennis courts. With these attributes the TM can even be found maintaining artificial turf, where its light footprint is an advantage.
TXGS TRACTORS
Used in a huge range of applications where a small multi-use sub compact tractor is required, this is the ultimate compact multipurpose tractor.  With 3 point linkage, mid and rear PTOs, optional mower decks and front loader the uses for the TXGS24 tractor are limitless.
SXG – WORLD CLASS MOWING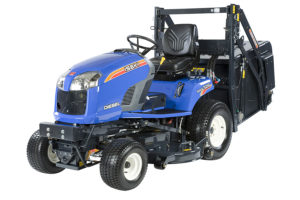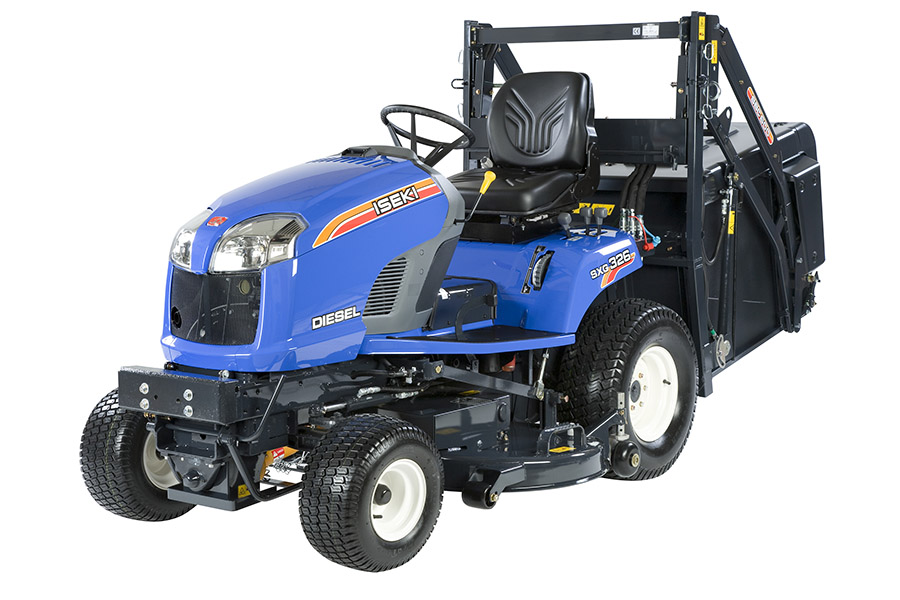 Iseki's best selling SXG mowers are renowned for exceptional cut and collect abilities, the range has a number of attributes that allow the machine to cut and collect with no blockages and leave a superior finish every time.  The rear axle is mounted high under the seat out of the way, with chain drive to each of the rear wheels.  This allows the grass to flow straight through from the deck to the collector with no obstructions, and avoids unwanted clogs. They also offer one of the largest hopper capacities on the market with a unique chute shape eliminating the blockages often encountered with competing models.
If you'd like to learn more about our full ISEKI range or book a demonstration to see one of these in action contact your local groundcare representative today.  Or visit thwhitegroundcare.co.uk for more information.