GEORGE ENO Capital Plant Sales Specialist. Living the 'good life'
George specialises in conventional milking systems. He joined T H WHITE 23 years ago as a Dairy Service Engineer, moving into sales in 2009. He loves getting to the bottom of what a farmer is aiming to achieve with a new installation, be that higher throughput, milk yield recording, animal identification, group or individual cow monitoring, and he then recommends equipment accordingly. He has found that whilst automation is a fast growing segment, there is still always a place for a simple systems that can be served by DeLaval's robust, reliable equipment.
"DeLaval kit is probably the toughest and most reliable in the market," he says. "It's a company that invests heavily in R&D, listening to customer concerns and responding with solutions that meet those challenges, such as the stable harmony cluster designed to maximise milking speeds with low cyclical vacuum fluctuations."
George knows that farmers get bombarded by salesmen, but coming from an agricultural background in which he worked in herd management for 15 years gives him the edge. "They appreciate that I know what I'm talking about, but they listen most to what other farmers say, so I often arrange visits to nearby farms where they can see DeLaval equipment, DelPro and various other milking technologies in operation."
As a service engineer, George has witnessed how trust grows with farmers when they experience T H WHITE after-sales and service, knowing we will support problems for the life of the equipment supplied.
One of George's proudest moments was a speedy parlour move for Bevan Lewis Baker, in Kemsey Commander, Monmouthshire. Weeks of careful planning enabled George and the team to lengthenthe parlour and move the existing equipment to a new site, all in one day.
Out of hours George is a bit of a green energy geek  – windmills , wind turbines, solar panels, ground source heat pumps are his passion, not to mention his productive vegetable garden, allotment and the three sheep he keeps. A true case of living the self-sufficient 'good life'!
---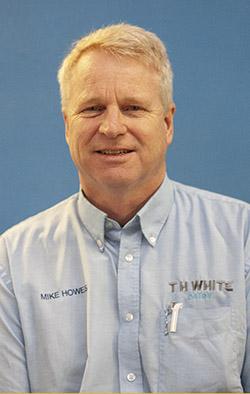 MIKE HOWES After Sales & Project Manager.   Retired Rugby player
Mike works closely with the sales team to scope the concept, materials, design oversight, cost control, staffing, welfare, and management of subcontractors and third parties for each project.
Mike joined T H WHITE in 1977 on an apprenticeship programme, achieving a HND in Agricultural Engineering. That choice was quite random – arriving late to a careers advice meeting at school he was made to draw a career path card.  It read Agricultural Engineer – so he thought why not, and followed it!
Mike completed extensive supplier equipment training and his experience gained him a promotion to Service Manager in 1994.  He left T H WHITE on several occasions – the first time in 1984 to work for the British Antarctic Survey for several years, followed by a spell in Saudi Arabia on a project creating the world's largest pivot irrigated farm. In 2000 he was appointed Technical Services Manager of a 400-acre Center Parcs estate but returned to T H WHITE in 2011.
Dairy technology is now moving ahead faster than ever which means Mike and his team have to be (and are) adaptive, fast-paced and responsive. "Many of us have worked together for a long time – there's a good vibe in a tight ship! We live our customers' pressures and help each other, recognising our scarce skill set in this sector," says Mike. "DeLaval is the world VMS market leader and I'm proud to represent the brand.."
Mike is a retired rugby player, but it's a passion he has passed to his daughter and he now enjoys the excitement of watching her play.
---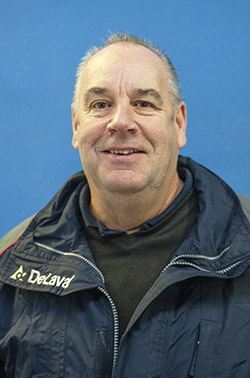 ANDREW WELCH Service Coordinator   Mountain biker
Andrew is our Service Manager at Frome, also supporting our Huntley branch. Brought up on his grandparents' Dairy farm at Twinhoe near Bath, milking is in Andrew's DNA. He still remembers drinking from the churn when little and doing the Sunday milk round.
Andrew worked as a farm labourer in his teens and joined T H WHITE in 1975 on the engineer's programme, becoming a fully qualified agricultural engineer.
After a brief interlude in the family business Andrew returned to T H WHITE amid the 1980s recession, calling customers to seek orders for on-site repairs and upgrades in the Cheddar area. . Relocating to Frome in 2000, Andrew joined the Dairy team.
Today, he and his engineers service our own DeLaval equipment and other brands in a large south west territory spanning Somerset to Hampshire, South Wales, as far north as Herefordshire and east to Berkshire.
Andrew is the primary customer contact point for breakdown and he liaises with engineers to determine the best skill set to tackle a problem.  He also deals with all refrigeration service contracts and bulk milk tank maintenance. When livestock are involved, there is often no time to spare.  Although it can be a challenge to take calls in the middle of the night, work out what's wrong and pick the right skill to solve the fault, Andrew enjoys the satisfaction of having helped many customers to achieve a positive outcome.
When not at work Andrew can be found restoring retro equipment and organising Frome Mountain Bike Group rides.
---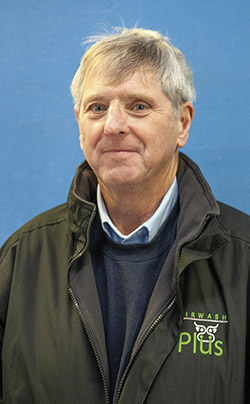 BOB GALLOP Slurry Specialist   Avid gardener
Working at the mucky end of agriculture as T H WHITE's Slurry Specialist may not be everyone's idea of a dream job, but it's a very necessary part of the cycle that delivers real benefits. 
Bob has been with T H WHITE for 45 years, joining as a mechanic and working his way up the tree over the ensuing 13 years to become Workshop Foreman. In 1989 he left for a two year spell at a Deutz tractor and RABI equipment dealership in Westbury, before embarking on a wonderful adventure running a Ford tractor dealership workshop in Tanzania. Exciting as that was, it played havoc with family life so he returned to T H WHITE in Frome as an Area Sales Representative. In 2013 the company decided to appoint a Slurry Specialist and Bob got the job. 
T H WHITE is a dealer for a select group of slurry equipment suppliers – Bauer for all fixed equipment, Hi Spec for tankers, Tramspread for umbilical equipment, Storth for auto scrapers and mixers and Vogelsang for applicators. Being able to represent them in this small sector of the vast agricultural industry means that Bob can offer a comprehensive and professional service. 
Away from the muck Bob enjoys delving in another kind of mud – as an avid gardener!
---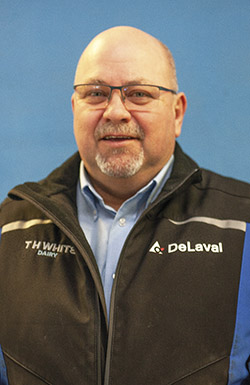 PAUL DERRICK Capital Plant Sales Specialist   Skittles supremo
Paul is proud of the fact that any dairy or refrigeration equipment that's bolted or fixed to a wall, ceiling or framework,  is something he sells! Since May last year he has been project managing his own sales, directing our workshop engineers through Andrew Welch and Chris Newey, ordering capital goods, parts and ancillary equipment, and overseeing completion of projects to the to a clients' specifications. Every day brings a new challenge and new problems to solve, which he relishes.
But Paul's enthusiasm for farming goes way back – to the 1970s in fact when his father was friends with a local farmer who allowed Paul to spend weekends and holidays helping on the farm.  He enjoyed the environment and applied to our tractor workshop, joining in 1977 as a junior engineer. Advancing to being a qualified technician, Paul took advantage of every opportunity to learn the ins and outs of New Holland, Kuhn, Opico, Manitou and more…
After 19 years he took up a fresh challenge in Dairy van sales, visiting half a dozen farmers a day with supplies and talking about all-important upgrades and refurbishments.  Our van operatives are great brand ambassadors for T H WHITE are instrumental in building rapport and trust among our customers.
Paul was excited by the way technological improvements were freeing-up farm labour, allowing a stronger focus on the husbandry side of animal welfare. He later took the role of workshop foreman before moving to Dairy capital sales in 2001, supplying  both robotic VMS solutions and conventional systems.
When not working Paul is an accomplished skittle player for three different teams, captain of two and a few league championships under his belt.
---
GARY GRANT Capital Plant Sales Specialist
Gary grew up around farms and began his career by milking cows working for farm contractors before joining T H WHITE as a Dairy Engineer in 1995.  
After a brief spell away, he returned in 2005 and by 2011 he had worked his way up into Dairy sales where he now specialises in conventional herringbone and rotary parlour systems. Where a customer is interested in robotic milking Gary will rise to the challenge too, as seen in the installation recently completed for Hann Farming (see page 4), calling as necessary upon the expertise of our VMS specialists to take the conversations forward. That's part of the benefit of working in a large and experienced team.
Gary is a big fan of Herd Navigator, DeLaval's proactive herd management tool which identifies when a cow is in heat and how much feed is needed at differing stages of lactation, making cow health and reproduction a seamless process.  
DeLaval's DelPro integrated farm management platform has also been a game changer for Gary's customers.  Monitoring the herd's well-being 24-hours a day, it brings all that data together allowing herdsmen to make decisions related to performance, feeding, health, milking and reproduction in one tidy application that can now be remotely accessed from anywhere with DelPro Companion. Gary appreciates the freedom and outdoor lifestyle of his farming career and the customer relationships he has built.
---
ROB WHEELER Draughtsman   Scooter rooter
Rob is the Dairy team draughtsman. He will often have three large builds on the drawing board, ranging in value from a few thousand pounds to more than a million. He loves starting with a concept and developing it into a fully operational solution – schemes can range from cow moving and handling systems, to a parlour design or a green field site.
For many of these projects T H WHITE will be acting as principal contractor, so as well as building work and planning submissions, every detail has to be accommodated right down to cladding and wi-fi points.
Having grown up on a dairy farm, Rob joined T H WHITE in the 1970s as an apprentice at Devizes, taking only a brief break to work in his family's catering equipment business. Here he trained in CAD design, a step which enabled him to return to T H WHITE in 2008 as the dairy designer. Has undergone extensive training on DeLaval parlours, IOSSH and more CAD design development.
Rob has seen enormous changes in equipment based around computerisation and was closely involved in the design of the complex quadruple VMS milking installation for Hann Farming near Frome (see page 4).
In his spare time Rob renovates and rides vintage scooters and rallies them at his local club in Radstock.
---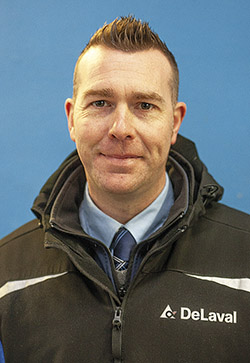 CHRIS NEWEY Capital Plant Sales & VMS Specialist   Fisherman
Chris Newey is our VMS Specialist, also responsible for capital plant sales and Frome service co-ordination. He joined T H WHITE in 2017 following a career in mechanical engineering with Dairy dealers.
From the first time he saw robotic milking in action Chris was excited about the possibilities of the technology and has since made it a speciality. He is particularly pleased with the result  of having moved Hugh Miles from a conventional to robotic milking system (see page 5) – in fact Chris has never seen someone so happy: "I think he was elated due to all the extra sleep," he says!
Chris' mornings are usually spent organising our engineers' schedules, getting parts ready and arranging service visits for the team. Dairy equipment is serviced annually as a minimum, but robotic units – which are at work 24/7 – require a service three times a year, so Chris pro-actively schedules client appointments, allocates an engineer and briefs them.
Later in the day he will return to capital plant sales, responding to enquiries for new installations or upgrades. This often involves a site visit to survey requirements, develop designs and cow traffic plans, followed by conversations with DeLaval to refine proposals.  Chris is always looking to achieve best value and longevity for the customer from each solution he presents.  He ensures he discusses future plans – does the client want to focus on technology or not? Do they want to grow their herd? Price variations between conventional and robotic equipment are minimal, but expansion is key and conventional solutions can be expanded easily without large investment – but create more labour challenges and longer working hours for the farmer. Robotic equipment, on the other hand, comes with more back-end technology to maintain, but frees-up labour to create a more flexible working day with focus on cow welfare. So the two paths level out depending on customer needs.
Chris rates the reliability of DeLaval equipment highly, and with proactive service planning the need for breakdown support is minimised, but 
T H WHITE is always on call with highly trained engineers.
When not at work Chris is rather proud of the fact that he can be found fishing, shooting – or sleeping!