Since T H WHITE Projects moved across from William Road to the new purpose-built 1250m² factory and offices within the main T H WHITE Group complex in October last year the division has seen a significant increase in the amount of fabricated steelwork, components and products being produced in our new Nursteed Road manufacturing facility.
Recent investment in machine tool technology has resulted in the installation of a new plasma cutter to assist the team in faster production of precision cut and profiled steel plate components for use on the numerous fabricated steel projects going through the production area.
T H WHITE Projects benefits from highly skilled in-house fabricator welders whose capabilities enable the team to adapt and accurately manufacture a variety of bespoke steelwork for numerous applications, which can be confi dently addressed and produced within strict tolerances and specifications.
The new plasma cutter augments the capabilities of the shearing, pressing, folding and cutting equipment, further improving the operational efficiency on the shop floor. The plasma cutter can cut both mild steel and stainless steel up to 20mm thick, achieving a high degree of accuracy and finish.
The Nursteed Road manufacturing facility is set up for production of bespoke steelwork comprising plate and member sections varying in size, profile and weight. Two five-tonne rated overhead cranes running above the individual fabrication bays enable component parts to be brought in safely, as well as taking out completed items prior to being sent for painting or hot-dip galvanising.
Each of the fabrication bays is equipped with welding equipment and tools to undertake a variety of tasks, and is segregated by screens as well as having individual fume extraction so that clean air is maintained in the working area during the welding process.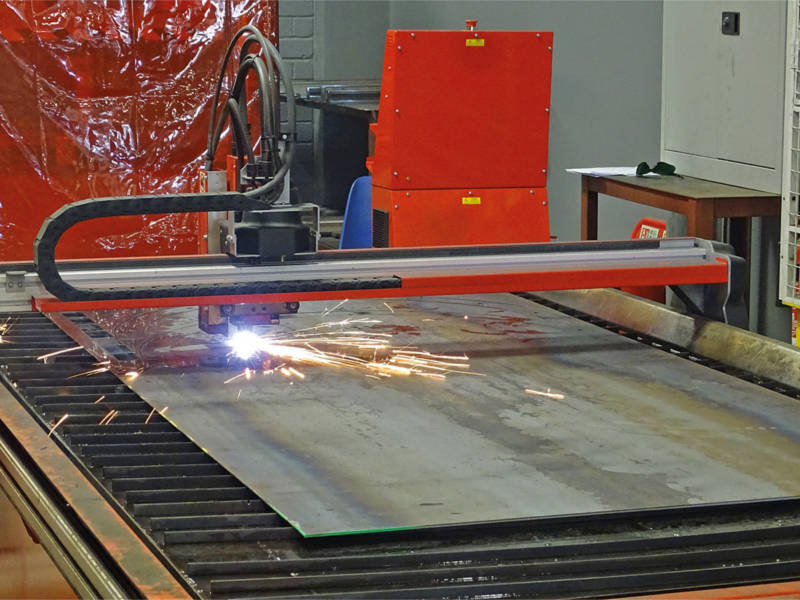 The new factory has the benefit of a large vehicle yard at the front of the building which ensures the safe unloading and eventual loading of the completed steelwork ready for despatch to customers. Site assembly and erection is on many occasions undertaken by the T H WHITE Projects personnel.
The Projects division produces a wide range of bespoke steelwork, ranging from ladders, stairways, platforms, supporting structures, ductwork and valves, to more complex grain doors, hoppers, bins, mezzanine floors and overhead gantries and bridge structures. All the work is carried out to ISO 9001 standards and is CE accredited to execution class 2.
T H WHITE Projects specialises in cereal processing & storage solutions of all sizes, from farm & estate installations to large commercial/industrial bulk facilities, taking each project from conception to completion. Visit our new website (thwhiteprojects.co.uk) for an overview of our capabilities – if you have a scheme you would like to discuss, please do contact us on 01380 723040 or email projects@thwhite.co.uk.