One of the most annoying things about the British climate is when rain stops work. Iseki's SXG+ range of powerful but compact cut and collect mowers are designed to perform equally well in all conditions – even in the wet – allowing you to carry on working whatever the weather.
Among the clever design features is the fact that on all three SXG+ models the rear axle is mounted high under the seat, well out of the way, with a chain drive to each of the rear wheels. This allows the grass to flow straight through from the deck to the collector with no obstructions to avoid unwanted blockages.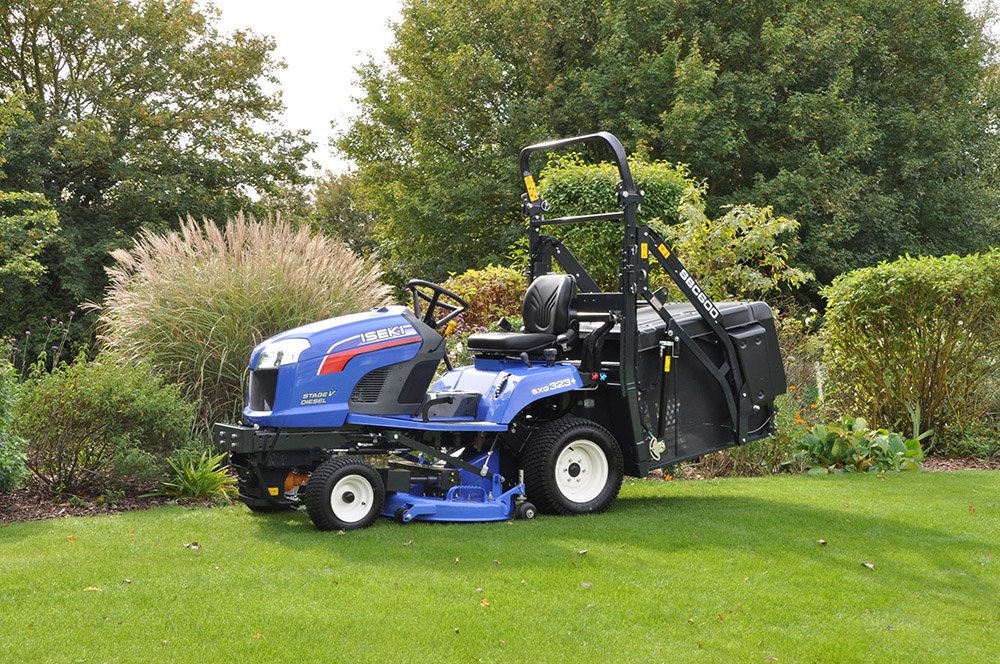 High displacement, high torque, low-revving diesel engines are another core feature. Many compact mowers rely on small capacity, high revving engines, inevitably resulting in more noise, discomfort and wear, but that has never been the Iseki way. Even the entry level SXG216+ has a powerful 13.5hp, 688cc, 2 cylinder diesel engine which delivers plenty of torque at low revs, ideal for tackling parks and gardens. The 19hp he SXG323+ and 21hp SXG326+ are both fitted with a large capacity, low revving 1123cc engine which creates very little vibration and wear and tear on the engine itself, also being very fuel efficient and powerful.
To make disposing of grass cuttings easy the SXG323+ and SXG326+ have an hydraulically operated high or low tip collection system which can lift up to a height of 1.97m. Built to be perfectly balanced, even when the collector is full and tipping from maximum height, there are no additional weights required. The SXG216+ comes with a low tip collector operated by an electric, fingertip control, so you don't have to empty the collector manually by tipping it up.
With the SXG+ mowers there's a choice of 40″ to 54″ centre discharge decks, 600 litre high tip or 550 and 320 litre low tip collectors, and a mulching deck is also available with a flip-up floor kit to cut and drop.
We think you will be amazed at the quality of cut consistently produced by these compact mowers, even in the most demanding situations.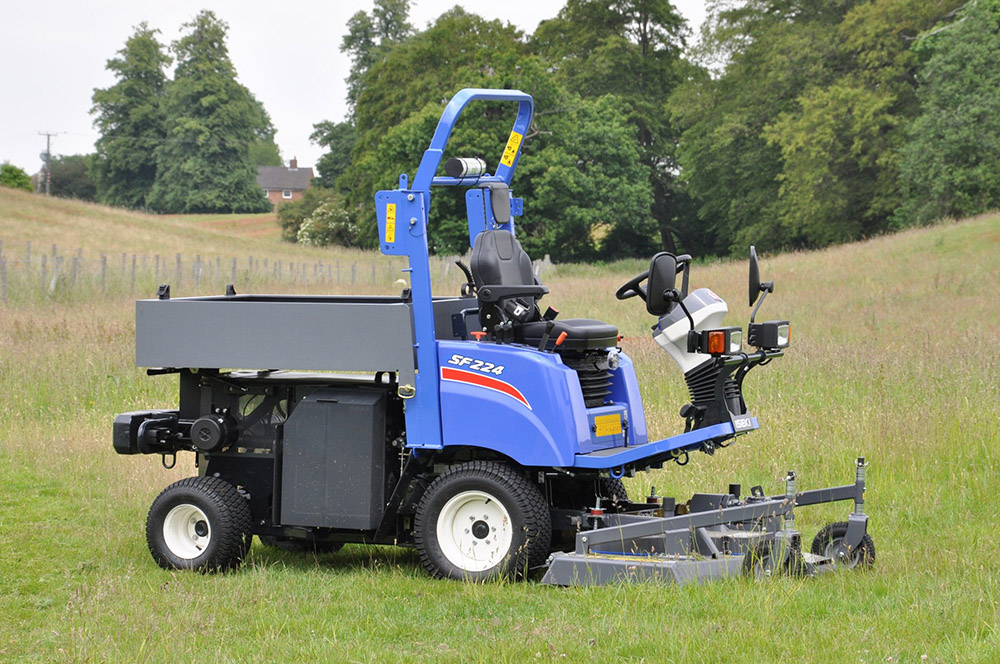 Many commercial users opt for out-front mowers and the Iseki SF2 range offers either the fuel efficient Stage V 22.5hp in the SF224, or the high-performing Stage V 35hp engine in the SF237. The 60″ rotary deck has a quick height adjustment system.
Users can opt for a high-tip collection system up to 2.25m high with a cuttings capacity of 950 litres or, on the SF224, a cut-and-drop system with a tool carrying deck on the back of the machine in place of the collector – perfect for cutting and maintaining large areas of grass and parkland where collection is not required.
T H WHITE Groundcare has a large selection of Iseki mowers in stock, ready to go. You can request more information or a demo by visiting thwhitegroundcare.co.uk/get-in-touch.