The remarkable dust suppression hopper, launched in England and Wales by T H WHITE a few months ago, is already proving to be an extremely efficient aid in creating a cleaner and safer working environment wherever powdery, granular or other free-flowing materials are handled.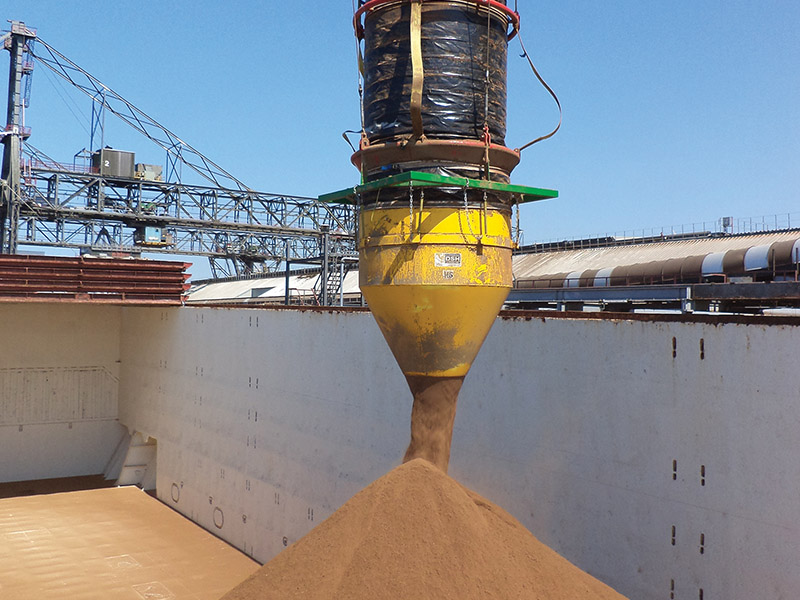 Since the launch, the T H WHITE Projects team has been in contact with decision makers in key industries – including the agricultural and cereal milling and processing sectors, port operators, chemical plants and mining and quarrying operations – where dust control is an ever-present challenge.
Simple in design but highly effective, the dust suppression hopper takes the form of an easily-installed loading spout, designed to be mounted immediately beneath an existing feed point. It's ideal for use where free-flowing products need to be packed, bagged, or loaded into ships, railway wagons, trucks, silos or storage bins. It works by funnelling material through a restricted orifice and cone, causing it to adopt a swirl. As the material exits the nozzle a combination of surface tension, compression and the induced vortex holds it together in a tight, highly controlled stream which contains dust within the column.
It really does work and the photos show it in action, but to show you just how effective it is we can arrange a trial with your particular application.
One company in the feed milling industry undertook a trial using one of our demonstration units and recorded a significant reduction in dust emissions, after which they proceeded with an order. Andrew Workman, head of business development at T H White Projects, said: "We have been most impressed by the initial response from the market to this innovation. Like our clients, we are confident that as the installed units become operational they will deliver significant environmental improvements leading to healthier and safer conditions.
If you are interested in arranging a live demonstration of the T H WHITE dust suppression hopper just call us on 01380 723040 or email projects@thwhite.co.uk. T H WHITE Projects also specialises in cereal processing and storage solutions of all sizes, from small farm installations to large commercial or industrial bulk facilities, taking each project from conception to completion, so if you have a scheme you would like to talk about please do get in touch. Our specialists will be pleased to advise and guide you to the best and most effective solution.