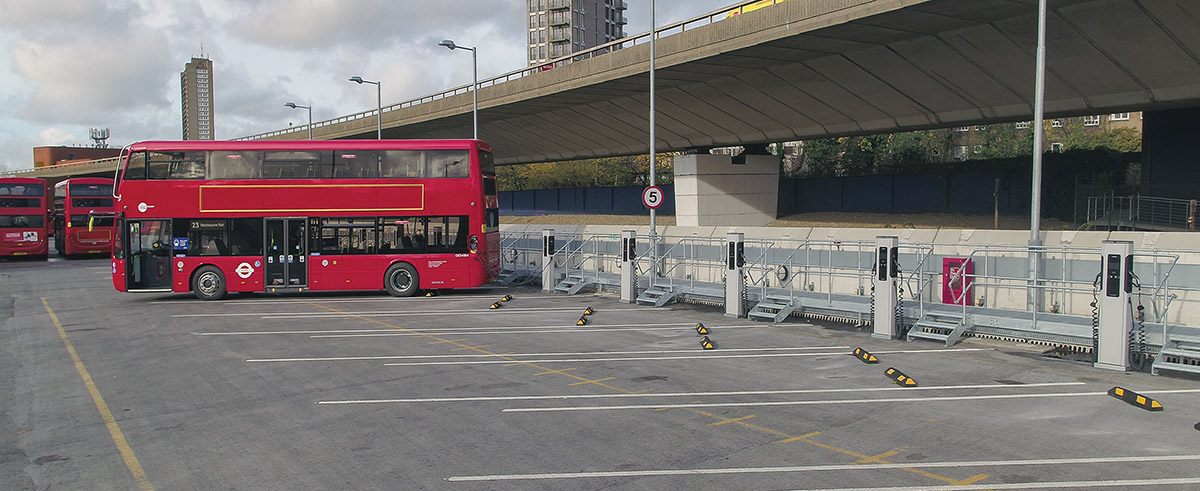 London bus operator Tower Transit has reinforced the move towards zero emissions in the Capital by switching more than 10% of its fleet at Westbourne Park Garage to fully electric vehicles. 
The first buses in an order for 37 Optare battery-electric Metrodeckers were delivered in September and, as a prelude to the transition, 37 charging bays have been installed by T H WHITE Energy, Fire & Security, with associated planning, design and project management by T H WHITE Projects.
The charging rank is located on part of a large open-air concrete deck constructed above the Crossrail railway lines, which has added considerably to the capacity of Westbourne Park Garage. Tower Transit procured Siemens charging equipment comprising 34 22kW AC units primarily used for overnight charging, plus four Sicharge 150kW rapid charging units which can deliver a fast charge during shorter layovers. They then sought an accredited installer who had the capability to deal with the specific challenges presented by this installation.
The choice of T H WHITE to undertake the Westbourne Park charging installation was a considered one: "There are plenty of companies out there touting for this sort of work," said Tower Transit Chief of Staff, Samuel Ribeiro, "but we wanted the assurance of dealing with an experienced contractor. In T H WHITE we found not only the depth of experience we were looking for, but also a company that had a well-established track record and strong accreditations."
The project proved the worth of drawing upon expertise across T H WHITE's Divisions. T H WHITE Projects is well versed in working on large industrial installations and, as well as undertaking much of the planning, design work and site management, fabricated more than 180 metres of walkway steelwork with handrails and steps at each charging point to allow easy and safe access for drivers. As the charging bays are on an elevated concrete deck, cable containment runs were also manufactured, both to protect the cabling and maintain high safety standards by preventing it from presenting a hazard.
The electrical design, cabling and actual charger installation was carried out by T H WHITE Energy, Fire & Security, drawing upon their extensive experience in the electrical field.
The first Tower Transit London routes to use electric buses are the C3 (Clapham Junction to Earls Court) and the 23 (Westbourne Park to Hammersmith). When all the new buses are in service they will save around 1,800 tons of greenhouse gases compared to using buses with Euro Stage VI diesel engines. It's all part of a move towards the electrification of transport in London which will help to slow climate change and provide better air quality for all.
Tower Transit is part of the SeaLink Travel Group, which is Australia`s largest integrated land and marine, tourism and public transport service provider with a 30-year record of bus operations, including the introduction of electric buses in Australia and the recent establishment of the world's first hydrogen bus consortium.
Carl Clarke, Head of Sales at T H WHITE Energy, Fire & Security, regards the project as a key accomplishment: "Working with our Projects Division and the people at Tower Transit on such a large EV charge point installation has been a great collaboration. We are all proud to have contributed to Transport for London's strategy to work towards zero emissions."
T H WHITE can install all types of EV charging points, from simple domestic installations to commercial, retail and industrial projects. To discuss your requirement call Carl Clarke on 01380 726656.