The move to electric vehicles and zero emissions is well under way and will be driven by two factors: the cost of vehicles and the accessibility of charging points.
The Committee on Climate Change has already said it's likely that the cost of electric cars will be similar to that of petrol or diesel vehicles by 2024-5. 
Meanwhile, Highways England is committed to ensuring that 95 per cent of its motorways and major A roads are within 20 miles of a charge point. 
To move towards that goal Highways England has awarded a contract to Swarco UK Ltd to install electric charging points in the south of England. T H WHITE Energy, Fire & Security is partnering Swarco to install E-Volt charging points that comply with the highest requirements of British Standards.
With around 230,000 electric vehicles already on the road at the end of 2018 and current forecasts suggesting that 30 per cent or more of vehicle ownership will be electric within five years, there are some great opportunities for companies, local authorities, retail, sporting and leisure operations to help staff and customers while boosting revenue.
CHARGER TYPES
Owners of electric vehicles will need to have a domestic charging point at home and T H WHITE has already been making these installations for customers. Typically these will charge a vehicle overnight on a low 7kWh rating, a charge taking 6-8 hours.
Charging at home is fine, but one of the biggest steps forward in overcoming 'range anxiety' is the decision by more and more employers to provide charging stations at the workplace. These take the form of commercial trickle chargers, again using about 7kWh which is perfect for staff parked during an 8-hour working day.
Where faster charging is required – for example at a golf club where members might want to charge their vehicle while they are out on the course, a speed charger will draw around 22kWh and deliver a full charge in 3-4 hours.
There are situations where an even faster charge is needed – such as at a retail store, sports centre or food outlet – and this is where a rapid charger can be attractive, taking around 45 minutes to an hour for a full charge at 50kWh. All charging times will, of course, depend on battery size, type and available capacity.
BENEFIT OR REVENUE STREAM?
Commercial operators who install EV charging points can choose to provide them as a benefit or to regard them as a low-maintenance revenue stream. An employer providing charging points at the workplace might choose just to charge 'at-cost' for the electricity – both a considerable staff incentive and a fulfilment of corporate social responsibility encouraging the shift to zero emissions. At a retail outlet, leisure facility or similar, the operator can decide on an acceptable mark-up to every kilowatt sold which would deliver a growing revenue stream as uptake of electric vehicles increases. Commercial sites with charging facilities are likely to be preferred by the growing number of potential customers with electric vehicles, generating added 'footfall'. Chargepoints are included on registry listings and web apps, with availability also being spread by social media, further raising site profile.
CONTROL AND ANALYSIS
A typical dual socket installation at a small business usually costs between £3-10k depending on whether it's a wall or post-mounted charging point, the infrastructure and cabling etc. This cost includes not only the installation, but a first year service and a digital back office application. The latter uses a dashboard which enables the operator to control and track billing, analyse charge rates (hour, part day, full day), profitability, and to calculate CO2 savings. Installers can also take advantage of OLEV grants (currently  £300 inc VAT for each socket installed) to offset the initial investment.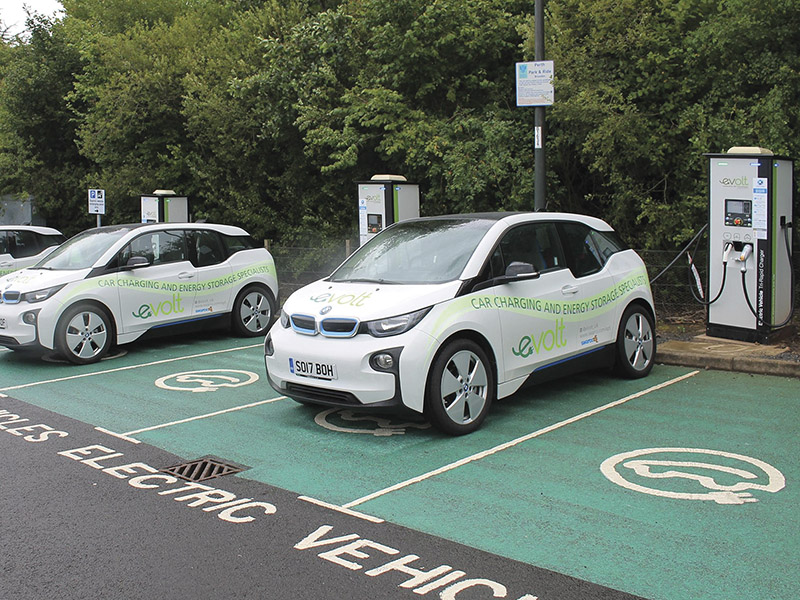 QUALITY AND SAFETY
When it comes to installing EV charging points there's a wide choice of suppliers, but how will you know what you are getting? Different chargers and buildings have different earthing systems so it's vital that the work is carried out correctly to avoid safety risks – not least electrocution.
When you use T H WHITE you will have the confidence of knowing that you are dealing with a fully approved installer and that the installation will conform to BS 7671, IET Wiring Regulations and The Code of Practice for Electric Charging Equipment Installation 
When you make an enquiry our normal process is to carry out  a site survey, discuss the types of charger best suited to the intended usage and then submit a detailed, costed proposal. On approval we will design the system and deliver a full turnkey solution. As all installations must be registered with the National Grid, we will take care of all the necessary paperwork and processes for you.
At present T H WHITE is partnering with Swarco UK Ltd to carry out EV charging installations across central southern England, from Somerset in the west to Surrey in the east, Oxfordshire in the north to Dorset in the south.
INTERESTED?
Call 01380 726656 and request your EV installation survey or visit www.efs.thwhite.co.uk and complete the 'Get in touch' enquiry form.