Tom Monk runs his family owned Rookley Farm in Stockbridge with an eye on efficiency and a healthy passion for innovation in seed growing. As part of a long-standing approach to getting the best out of his farm machinery, Tom is delighted to name a self-propelled crop sprayer from British manufacturers Chafer as the latest addition to his fleet – having been heavily involved throughout the purchasing process, from detailing its customised design to seeing it roll off the production line!
At 1,300 hectares, Rookley Farm has been in the Monk family for 3 generations. During the 1960's it was a mixed farm, dealing mainly in arable, dairy and beef. The 1970's saw a move towards grass seed and it began to specialise in seed production from the 1980's onwards. The farm now has its own dedicated seed plant and produces mainly seed crops with some commercial crops, such as linseed and oilseed rape.
When it came to choosing the Chafer brand, Tom was very clear on the associated benefits. "Apart from the prestige involved in buying British, we wanted to hit the ground running and it was hugely beneficial for us to have a custom-made product set up the way we wanted from the off. Not to mention the easy access to detailed product knowledge and plenty of spare parts just around the corner," he says.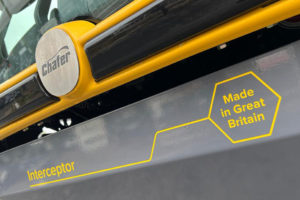 A definite up-tick in productivity is expected, as the new Interceptor is widely recognised as a highly efficient machine. Tom traded his previous sprayer, a 2017 Sands Horizon model, and has already noticed increased efficiencies including quicker, easier filling and a vast improvement in traction.
"The CVT transmission was also very impressive," continues Russell, "with the Interceptor handling any slopes easily when fully loaded, giving us a very controlled ride – especially when combined with the automatic boom levelling capability." AF Monk's main spraying operative, Aaron Davis, felt equally impressed by the Chafer, particularly with the cab design. "The operating environment is very spacious, comfortable and quiet too, with excellent visibility," he commented. "This will be so important during the Spring, as peak-time shifts can stretch to 13hrs plus". Aaron has also been delighted with Chafer's FieldVision lighting packs on both the booms and the body of the machine itself. "We can easily see the spray patterns when working into the night hours, thanks to some expertly considered lighting solutions" he adds.
AF Monks also specified an Individual Nozzle Control capability as part of their design. This improves accuracy in spraying on headlands by reducing overlaps, as crops can be scorched if overlapping occurs too freely – as well as keeping chemical and fertiliser costs to a minimum. They were also impressed with Chafer's Pulse-Width-Modulation (PWM) system and the additional accuracy this can provide when controlling the flow on turns. It is a feature they may well consider as part of a potential retro fit in upcoming seasons.
T H WHITE Agriculture sales rep Chris Martin took Tom and his team up to Lincoln to see their new Chafer sprayer come off the production line over the summer, which was a rewarding experience for all concerned. "It was great to see a British made machine, built by people who clearly take so much pride in their job," said Tom.   T H WHITE Agriculture have also built a fantastic relationship with A F Monks – over the years they have provided them with a variety of machinery and accessories, including Case IH Puma tractors, Ktwo grain trailers, McConnel toppers and Pöttinger tedders.
Contact the T H WHITE Agriculture team for more info on the Chafer Interceptor self-propelled crop sprayer.