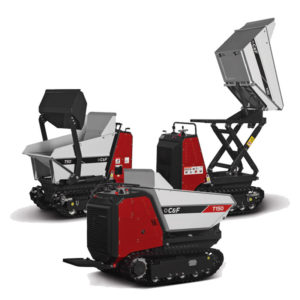 The C&F dumper range consists of the Traker T60 dumper, Traker T85, and Traker T120-150 tracked mini dumper. Their compact design makes them ideal for work in confined spaces or with limited access – typically where wheeled dumpers struggle to move freely. Capable of carrying a variety of materials on different surfaces, for example muddy or sandy terrain or on extreme slopes – whilst always ensuring maximum safety and stability. Fitted with either petrol or diesel engines and available in over 20 configurations, the Traker dumper is the perfect choice for any busy construction site.
Talk to your T H WHITE rep today to be sure of securing these great machines.
Call Kevin or James covering the Midlands and Steve or Charlie for enquiries in the South.
Kevin Condon                    Tel 07966 133538
James Bird                         Tel 07970 805985
Steve Clucas-Tomlinson    Tel 07860 593339
Charlie Rabbits                  Tel 07775 684876