The Boomer range is New Holland's compact tractor with hundreds of applications. We answer some of the most commonly asked questions about these versatile machines…
Q  What are the typical uses of New Holland's Boomer tractor series?
These models have been developed for agricultural and municipality use encompassing farms, golf courses, parks, vineyards, large estates, and orchards.
Q  How would you characterise a Boomer?
Compact, manoeuvrable and versatile.
Q  What are the 3 classes?
Boomer 25 – Three-cylinder 23hp and 27hp engines with dual-range hydrostatic transmission (also offered a small but mighty 4WD Boomer 25 Compact)
Boomer 30 and 35 – Four-cylinder 28hp to 38hp engines, with three-range hydrostatic (or 12×12) syncromesh transmission
Boomer 40 and 50 –  Four-cylinder 41hp and 47hp engines, with three-range hydrostatic (or 16×16) syncromesh transmission and a creeper option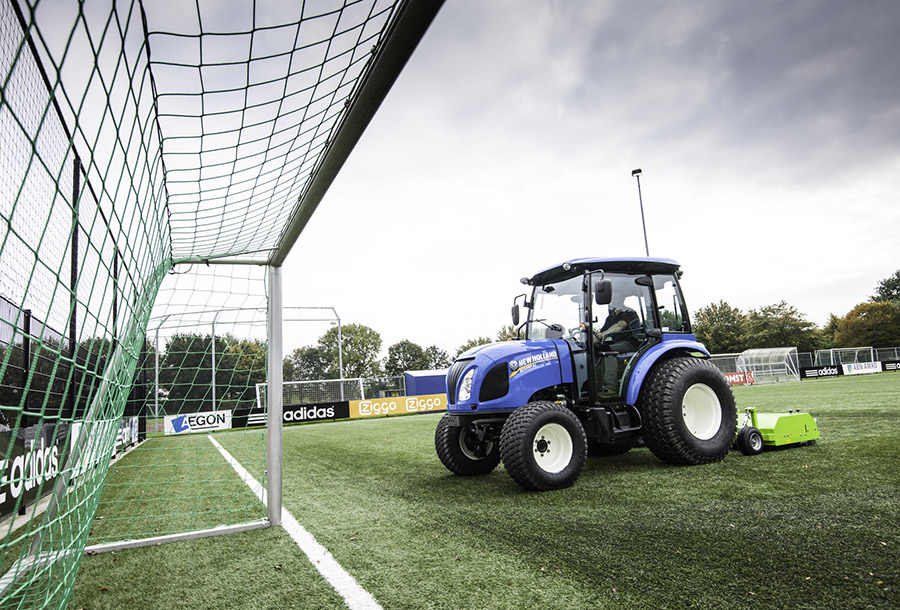 Q  What are some of the key features you will find on a boomer?
Operating ease from a large uncluttered operating platform
Synchronized shuttle shift (SSS) for Boomer 30 and above, alleviating the need to come to a complete stop before shuttling between forward and reverse
Mid-mount hydraulics and PTO
Easy implement change making Boomers ready for any job with category I three-point hitch and one or two rear hydraulic remotes depending on the model
Independent, electro-hydraulic 540-rpm rear PTO on the 25, 30 and 35 models and electro-hydraulic three-speed (540 / 750 / 1000rpm) rear PTO on the 40 and 50 models
Electro-hydraulic independent mid-PTO to power mid and front-mount implements is standard on all hydrostatic versions
Ground drive PTO option available on Boomer 40 and 50 models with 16×16 transmission
Q How does the cab experience compete?
The new factory-installed Boomer Suite™ cab is brimming with standard features, and clean modern, ergonomic styling. The list of standard equipment includes air conditioning, opening rear side windows, radio ready, tilted steering column, high comfort seat, and excellent rear visibility and operator comfort.  Dual rear work lamps and wash wipe also come as standard.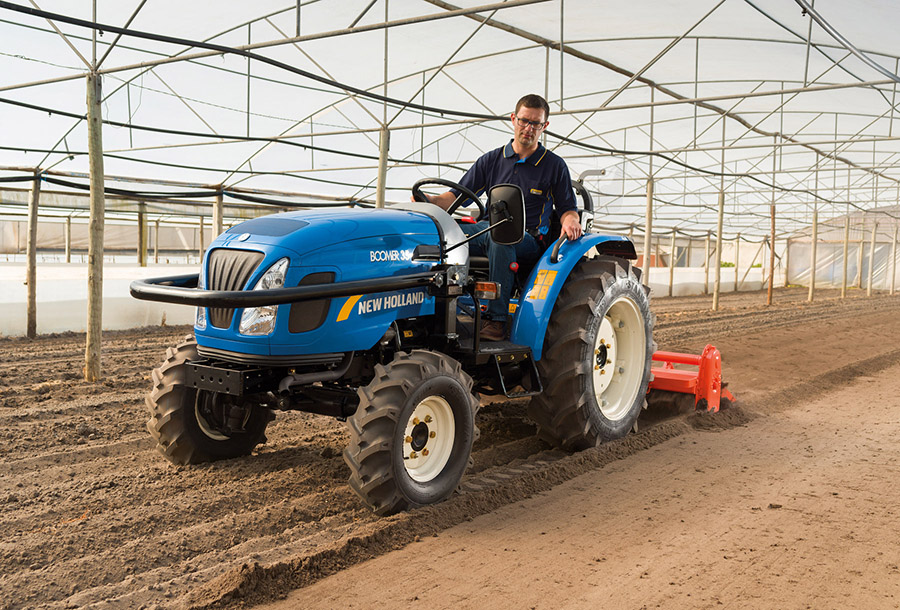 Q  Why are Boomers ideally suited to fruit production horticulture?
The power and size suit both wide-area and restricted access food production systems.  New Holland Boomers have a high standard specification, excellent comfort and low operating costs. From glasshouse to field and from orchard to vegetable production, the efficient mechanical transmission Boomer 30, 35, 40 and 50 have the performance needed for such applications at a very affordable price.
Q What are the lift capacities?
The Boomer 25 offers a class-leading 650kg lift capacity
The Boomer 30 and 35 have a big 820kg lift capacity
The Boomer 40 and 50 offer a massive 1,250kg lift capacity
Q What benefits would groundsmen find in opting for a Boomer?
Boomer tractors are all offered with hydrostatic transmissions making these tractors the ideal choice for mowing, transport and other duties to include sweeping, snow clearance and general maintenance. When it comes to hydraulic flow, only New Holland list full capacity and do not include power steering providing the right specification for the job without costly options.
Q How does the Boomer range cope with continuous operation demands?
New Holland Boomers are designed for just that circumstance meeting the demands of professional users working in equestrian, estate management, farming or professional grounds care.  Affordable pricing ensures these qualities can be delivered to those needing a rugged and easy to operate tractor that may see less intensive operation but still needs to work around the clock to keep businesses running. The benefit? Reliable, and dependable performance over an extended working life. Boomer tractors have a choice of hydrostatic or more traditional mechanical transmissions with high levels of operator safety and comfort and T H WHITE service workshops are ready and waiting to support your Boomer with regular servicing and maintenance as required.
Get the big story on New Holland's baby Boomers from your T H WHITE rep.