One of the beefiest rotating telehandlers in the Manitou range – the MRT 2550 Privilege Plus – has been added to the plant list at Scottish-based Graph Engineering.
Managing Director George Auld is looking forward to working with the new machine, which was supplied by T H WHITE Construction in mid-February and was put to work straight away on a malting site in East Lothian – a job for which T H WHITE Projects supplied the silos.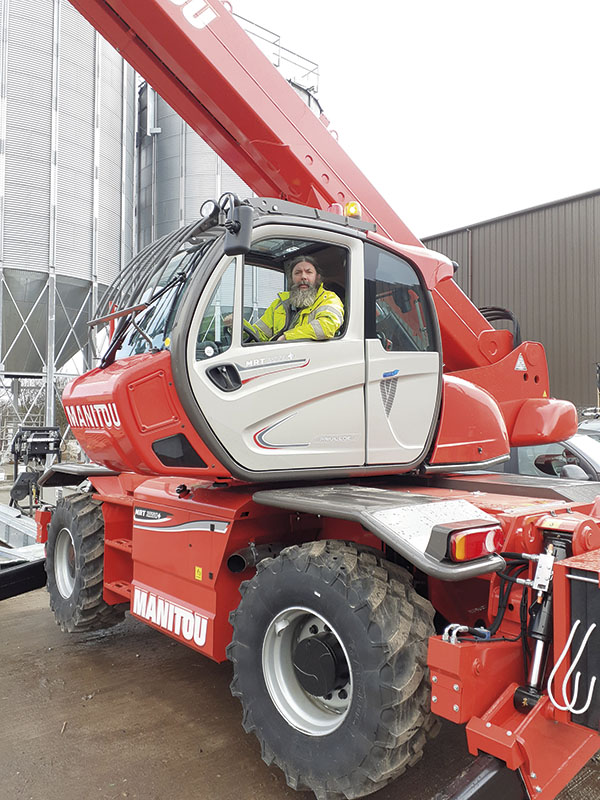 With a company history stretching back more than 25 years, Graph Engineering has worked extensively on industrial and grain handling installations across the UK, Europe, Ireland and even in the Orkney Islands, many of the commissions being undertaken with 
T H WHITE Projects. It was to meet the demands of these larger installations that George bought the MRT 2550. He is a long-term user of Manitou telehandlers and he already has a heavy duty 3.7-tonne lift MRT 2150 in his fleet as well as an MT 625 purchased from T H WHITE a couple of years ago for lighter work.
"We love the durability and reliability of Manitou machines," said George, "and the 5 tonne capacity plus 25m lift of the MRT 2550 will be a real advantage for installation of steelwork and conveyors.
"In many applications we will be able to use the MRT 2550 as a crane by adding a winch which will give us an extra 4m lift – and up to 7m for lifting lighter loads. The boom on the MRT 2550 comprises four elements which, combined with the 360deg rotation of the turret, allows many operations to be performed without moving the equipment. The E-reco attachment recognition system keeps an eye on the working configuration to detect any overload and make sure that everything stays within the safe working envelope. The machine is essentially a forklift, crane and access platform all in one"
There's a Manitou telehandler for a wide range of construction tasks. For all the details and impartial advice on the right one for your application, call Steve Clucas-Tomlinson on 07860 593339 or Luke Sellwood on 07780 225104.