New to T H WHITE Country Store is the revolutionary EGO Range of electric garden tools and mowers. 
These state of the art garden tools have been designed from the ground up to deliver petrol-matching performance. All tools in the EGO Power+ range are powered by the same patented 56v Arc Lithium battery which is like no other, delivering impressive run-time and performance. Unlike conventional brick-shaped batteries, where the cells are packed together and are prone to overheating and shutting down, the unique Arc design dissipates heat more effectively.
As well as being much kinder to the environment than petrol-driven tools, the EGO Power+ system can also save you a lot of money. Take the hedge trimmer, for example. A full charge will keep you 
going all day and will cost around 30p at current prices. To do equivalent work with a petrol trimmer you would use around three litres of fuel at a cost of £1.93 for 2 stroke or £4.00 for 2 stroke premium mix. Over a year your savings could amount to more than £1,000.
What's more, with the supplied charger, the battery can be fully charged and ready to go in as little as 30 minutes.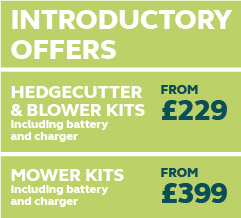 Comfortable to use, with far less noise, fuss or fumes, EGO tools are kinder to your hands, ears, wallet and the environment.
All EGO Power+ products come with a domestic user two-year warranty. An additional three years on tools and one year on batteries applies when the product is registered within 30 days of purchase. The warranty for commercial users is 12 months.
E & OE. While stock lasts. All offers are subject to amendment or withdrawal without prior notice. All prices include VAT