At long last milk prices appear to be on the rise and will hopefully herald better times for UK dairy farmers. However, the recent tough years have encouraged some farmers to look at new ventures. The market for goat milk and cheese has seen strong growth and there are probably more goats now being milked in the UK than ever before, but a smaller number of farmers have also turned to sheep.
One of these is Ruth Armishaw, who started milking sheep commercially last year at Mere Park Farm, near Warminster, and aims to expand her flock to around 800 ewes.
"I always knew it wouldn't be easy," said Ruth, "as there's no deeply established tradition of sheep milking in England, so it's necessary to create and grow your own markets. One of the aspects that really appeals to me is retaining control right through to the finished product – we are not just selling our milk to a processing factory. We actually bottle the fresh milk and make the cheeses on the farm, and we have great plans for new products including the most delicious ice cream."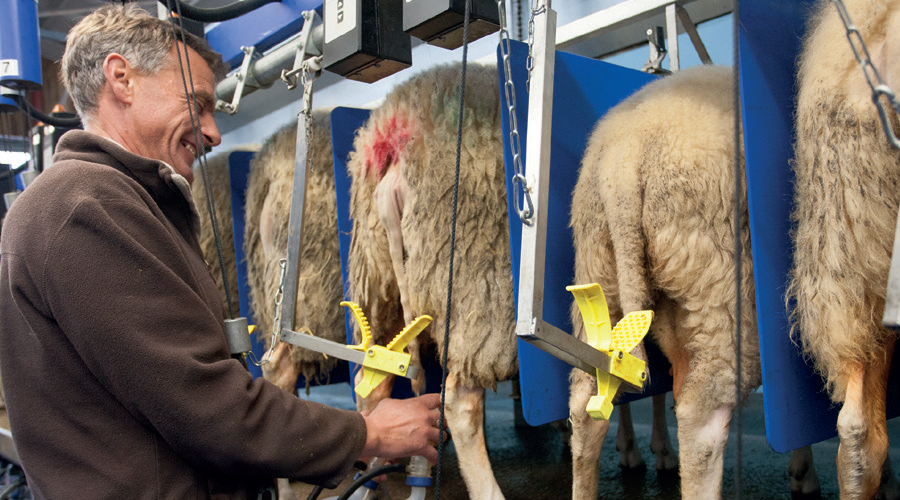 So far the results have been most encouraging and Ruth has enthusiastic uptake of her products from farm shops, delicatessens and quite a few leading chefs. Her speciality blue cheese, made with vegetable rennet, was awarded 'Best Cheese of the Year' by the Vegetarian Society, while her pressed cheese has already won gold and silver medals.
To some extent Ruth came to this by chance. In 2011 the Armishaws were looking for a property project when they found Mere Park Farm, a 296-acre plot in a run-down state. Having purchased it they set about rebuilding the farmhouse and revitalising the land. In this grassland area they initially had thoughts of producing hay, but their first venture into livestock came with the purchase of 50 North Country 'mules' from Wilton Sheep Fair – a cross between a lowland ram and a pure-bred upland ewe. Having borrowed a Texel ram
they had their first lambing in February 2013. "I absolutely loved it," Ruth remembers, "but we had a large number of triplets and many became 'orphans'. The high cost of ewe milk replacer made us think it would make sense to acquire some more sheep to milk for the lambs, so we purchased a further lot from Frome Market, which included some East Friesland ewes.
170 lambs were added at the second lambing and the initial venture was rapidly becoming a full-blown business. It was time to take stock and, with advice and help from their farm manager Stuart Green, the Armishaws purchased the adjoining 240-acre farm in November 2015. The decision was taken to enlarge the flock to start producing milk for human consumption so Stuart travelled to Germany on a buying mission where he purchased another 150 East Friesland ewe lambs.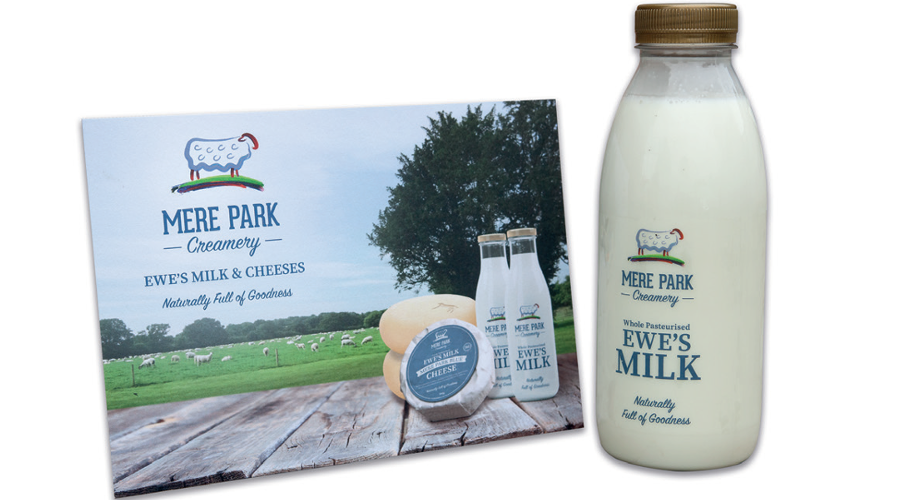 By this stage milking was the biggest challenge and with an eye to future production a bespoke sheep milking parlour was planned. Ruth started by phoning possible suppliers: "Some of the companies were suggesting a converted goat parlour, but I knew I didn't want that. We were determined to do this properly and we wanted a parlour that was specifically designed for sheep.
"This was where Gary Grant from T H WHITE really helped. His Dairy team recommended a DeLaval sheep parlour and put us in touch with DeLaval so that we could satisfy ourselves on all the details."
"The preparations and installation of the new parlour were going to take several months, but in the meantime we had an urgent need to improve our milking facilities. T H WHITE built us a temporary portable parlour, mounted on a lorry trailer so that we could move it around easily – a great interim solution that cut milking time to 2½ hours, still a lengthy process but a lot better than before!"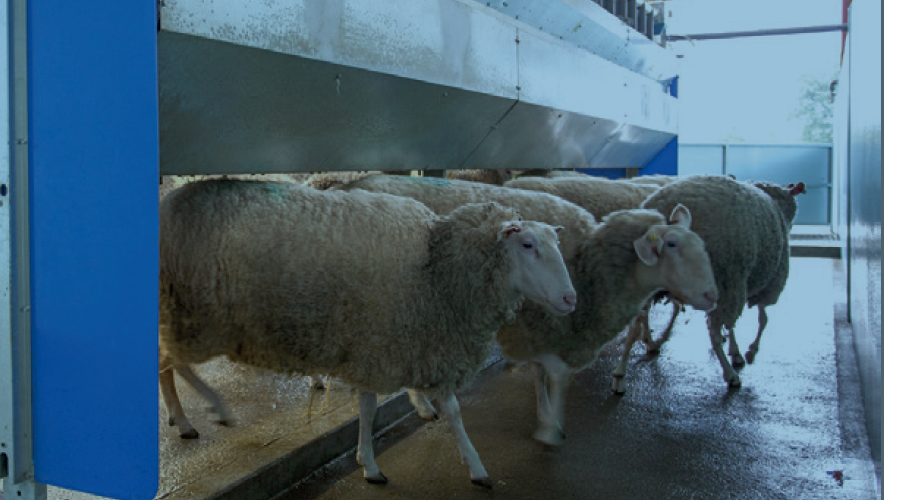 Groundworks for the new permanent parlour began last Christmas and the first milking took place bang on the target date of 1 April this year. The DeLaval parlour – the first of its type to be installed in the UK – is a P300SG 18/18 parallel stall, rapid-exit design with automatic cluster removal, fitted with a cushioned floor in the pit for operator comfort. An interesting addition are the udder-lifter arms that gently raise the ewe's udder at the centre, bringing the teats into the lowest position to deliver maximum milk yield.
The parlour functions are controlled by software similar to DeLaval's Alpro system used in cow parlours, but rewritten for the specific needs of sheep. Ewes' Electronic ID tags are read on entering the parlour, and can also be automatically drafted from the rest of the flock if necessary. The tag also carries yield information enabling the highest yielders to be identified for breeding.
Such has been the success with lambing cycles at Mere Park Farm that the ewes have now been divided into four groups, lambing for 17 days, four times a year, in January, April, October and July. Sheep can lactate for nine months, but Stuart Green has adopted a policy of milking them for six months, putting them back to the ram when dry.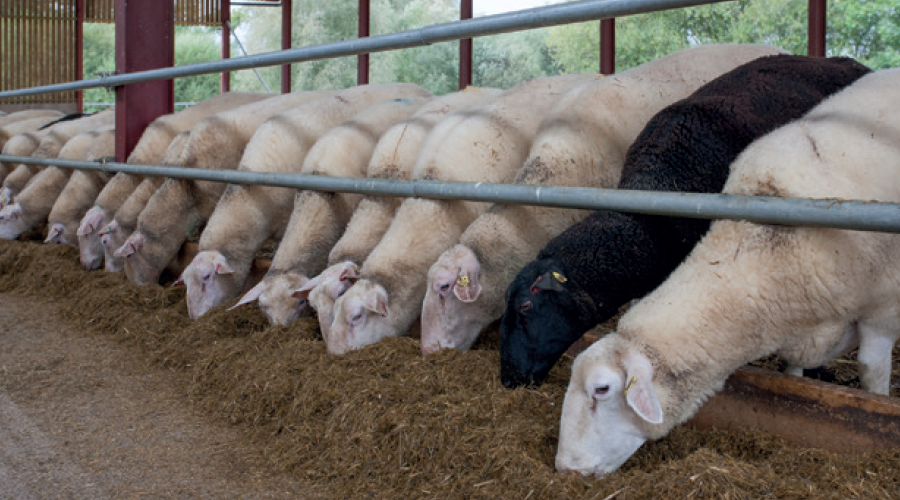 Success with the sheep enterprise may only be the start of bigger things for the Armishaws. Ruth already has a herd of handsome Devon cows on the farm which may be developed for a further venture. We'll undoubtedly be hearing more about Mere Park Farm!
For more information on specialist milking parlours please contact T H WHITE Dairy on 01373 465941.