T H WHITE's brands will enjoy a strong showing at the biennial Agritechnica show, being held in Hanover from 10 to 16 November.
Several of our manufacturers won Agritechnica awards this year so we are bringing you the planned Agritechnica messages as the latest machines and technologies are unveiled at the show, all set to transform your farming in the years ahead…
CASE IH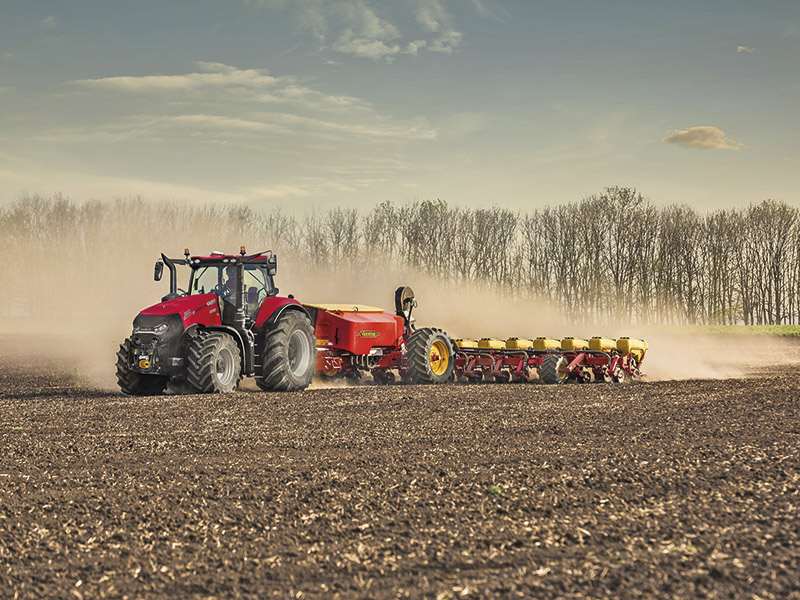 Among the most impressive exhibits is the seventh generation of Case IH's flagship conventional tractor, the Magnum AFS Connect available in variants from 351hp to 435hp. A new design with a full-length door and a superbly-appointed comfort cab is twinned with remarkable connectivity. Based on the proven Case IH
Advanced Farming Systems (AFS) technology, the tractor incorporates a refined data system which takes the concept to new levels. With entirely new hardware and software – including a new display – the system offers real-time presentations not only of 'standard' data such as the location and performance of machines, but also data including field records, area worked and rates of application.
Using the online Case IH AFS Connect portal, farm managers can access the data from their office or mobile device, monitoring current field operations, fleet information, agronomic data and more. Although we can't cover all the options in this brief overview, the T H WHITE Pro Agri team will be delighted to give you all the details. Call them on 01373 465941 (Frome) or 01264 811260 (Stockbridge).
VÄDERSTAD
Innovative new equipment solutions and technological advances star in Väderstad's Agritechnica line-up.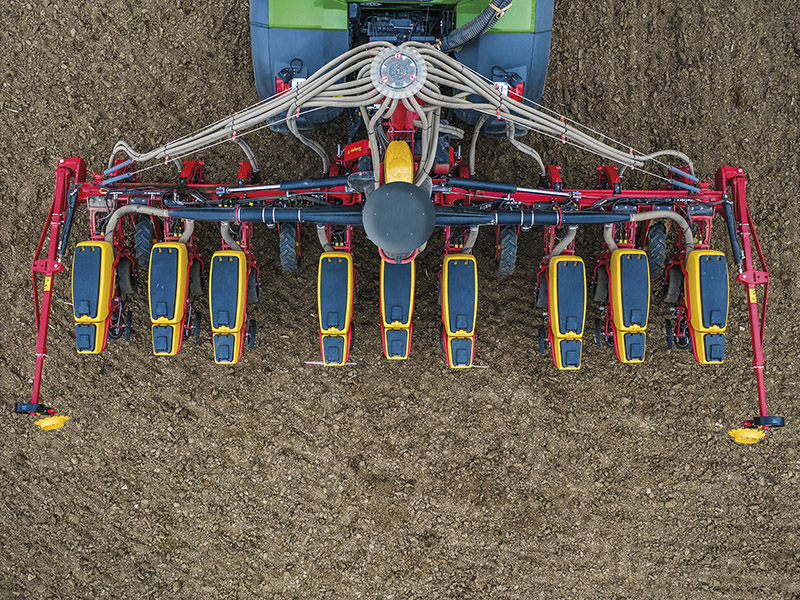 The show will give visitors the first opportunity to see the all-new heavy-duty tine harrow NZ Extreme 1250-1425. This 12.5 to 14.25 metre machine is Väderstad's widest harrow to date for the European market and will be placed in a variety of challenging locations for 'real-world' testing before full manufacture and delivery begins in 2021.  Väderstad has really gone the extra mile with the NZ Extreme which is built from a 5-section frame, able to adapt to the field surface and maintain the selected depth. This capability is augmented by an innovative weight transfer system and ingenious wheel set-up. Swedish quality steel, a strong and unique tine mounting plus an intense vibrating tine action is combined with extreme stiffness and durability for real heavy duty work. The Extreme tine will crush clods, maintain its exact depth and completely level the field.
Also being launched at Agritechnica 2019 with an Innovation Award is the Väderstad Tempo WideLining system. This is the world's first tramlining system that will enable farmers to spread liquid manure in a standing silage maize crop, without compromising yield potential. Instead of shutting off row units to create tramlines, WideLining automatically changes the row spacing on the planter hydraulically to create two 1,050mm tyre tracks, thereby ensuring all row units plant at full capacity. The row spacing between the tyre tracks can be varied 750-600mm.
WideLining is fully automatic and integrated in the iPad-based control system Väderstad E-Control. When the function is activated, the machine will calculate the field and automatically adjust the row units to create tramlines based on the working width of the liquid manure spreader. In practise, this is likely to result in 8.3% more seeds in the field compared to alternative technology.
Väderstad WideLining will be available on Tempo V 6-12 from the second half of 2020.
Väderstad has offered wireless machine control, via its iPad-based control system Väderstad E-Control since 2013, but now the technology has been extended to phones. By downloading the E-Control Mobile app to a smartphone, the farmer can now calibrate his seed drill or planter direct from the phone, connecting wirelessly to the Väderstad machine and thereby maintaining full control flexibility and mobility in the field.
NEW HOLLAND
New Holland's continual push towards enhanced farming technology has earnt it three Agritechnica Innovation Awards this year. There's a new driveline for the high intensity BigBaler which delivers a 79% increase in torque; further developments to the CX threshing system; and a baler control system for the T7 tractor.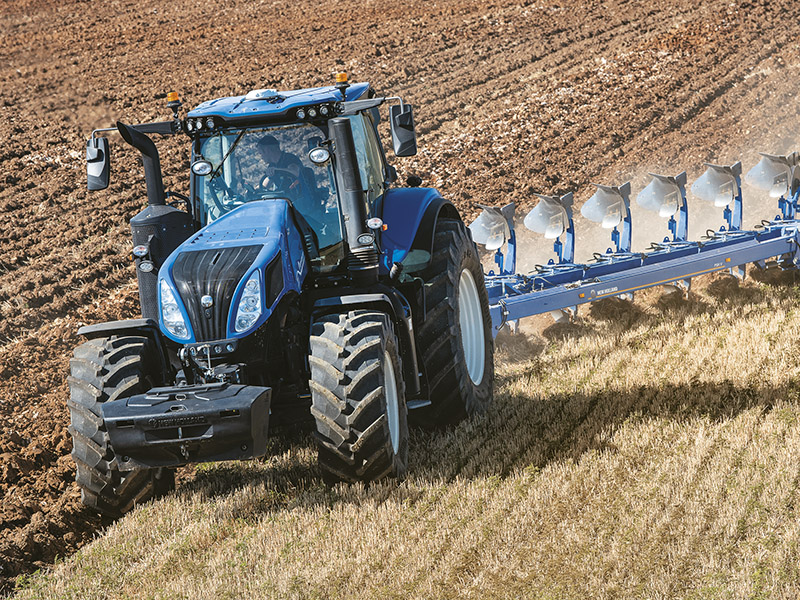 A major launch is the T8 GENESIS® Series tractor with Precision Land Management (PLM™) Intelligence. Packed with new features and technology, it features a completely redesigned cab and delivers a fully customisable 'jump on and drive' operator experience. Hydraulic remote valves can be assigned to the paddles or joystick of the driver's choice and individual tractor settings can be stored against an implement name and recalled instantly when switching between tasks.
During 2020, New Holland will extend the T8 GENESIS® range with a new 400hp full-powershift model. This new powershift will feature a 21Fx5R speed transmission and will only be available on the flagship T8.435 Ultra Command™ in either wheeled or SmartTrax™ versions. With this new addition, customers can choose at every power level the transmission technology most suitable for their business.
New Holland's CR Revelation combine range has been given a 5% power upgrade across most of the range and now introduces the industry-leading ECOBlue™ HI-eSCR 2 technology to comply with Stage V emissions standards.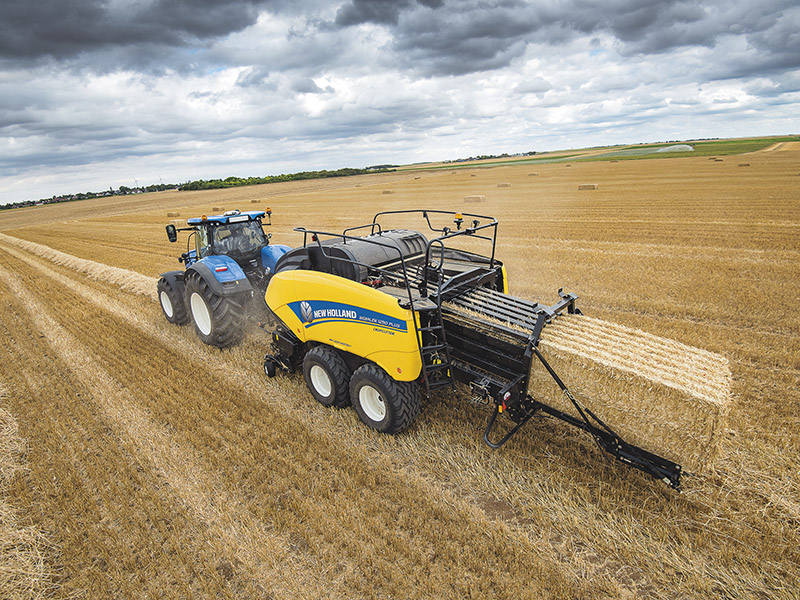 Of great interest to many farmers will be the introduction of the new patented Loop Master™ knotter on all BigBaler models. This sets new standards by eliminating offcuts left loose on the bale and in the field. It's estimated that a season's production of 10,000 bales can result in close to 6 kilometers' worth of twine offcuts which can contaminate feed and be ingested, or which are left to pollute the ground. As well as doing away with loose twine offcuts, the Loop Master™ enables the twine to retain 15% more strength – equating to more efficient and secure baling, higher productivity and lower costs.
KUHN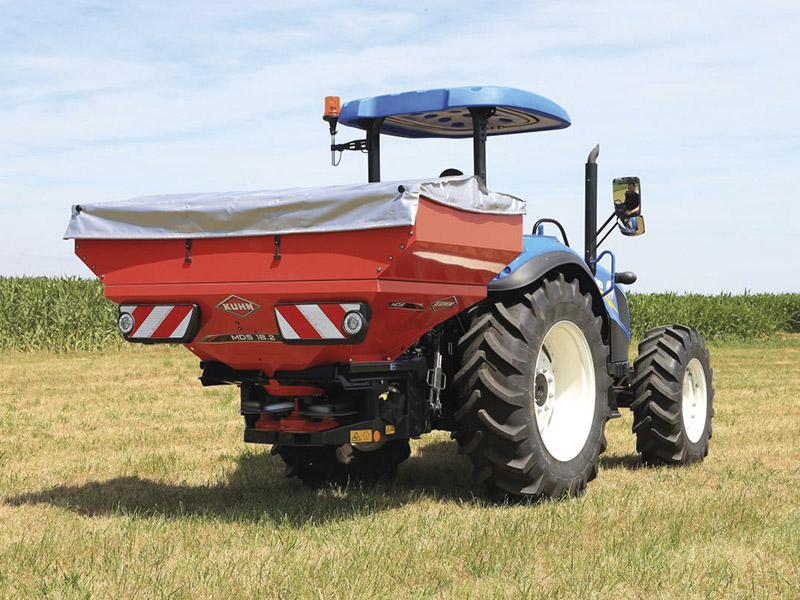 Kuhn's MDS .2 fertilizer spreaders offer many features and options suitable for specialised crops, such as vineyards, orchards and vegetables, as well as row crop and small grain farms. A simple PTO drive and rugged low-maintenance gearbox operates twin spreading discs that offer working widths up to 80ft.
The company's new Maxima 3 seed drill has its own 48v electric drive system which means there's no need to use the electric power of the tractor, while also ensuring smooth and continuous rotation for high precision, even on acceleration and deceleration on headlands, in vertical accelerations or in dusty environments.
MANITOU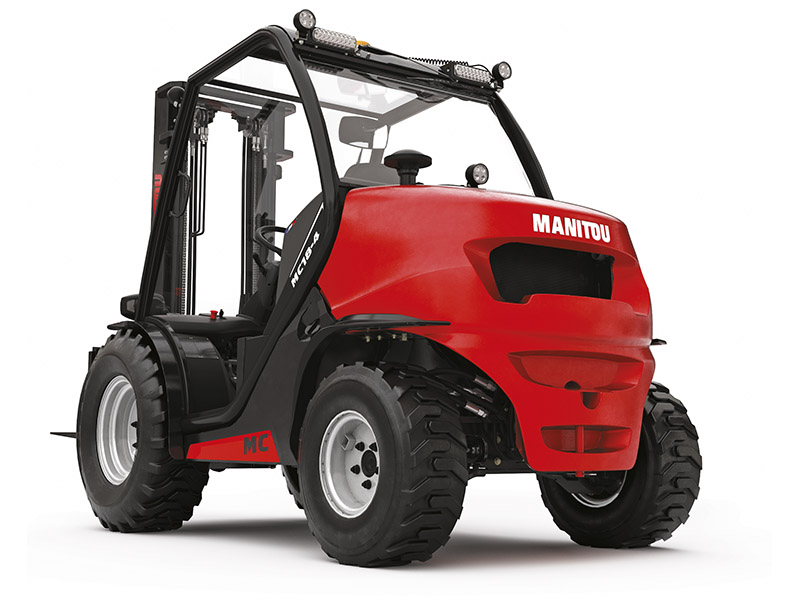 Among Manitou's popular range of telehandlers and forklifts, the company is showing its new MC18-2/4 forklifts. With an overall width of just 1,450mm the new machines are designed for easy manoeuvring in restricted spaces. Extra power and torque comes from the four motors integrated in the wheels giving it the ability to climb slopes with ease. It's possible to switch from four-wheel to two-wheel drive at the touch of a button and 30cm ground clearance (the highest on the market) means it can be used in challenging conditions such as on mud and sand.
Visitors to Agritechnica will also have a preview of the comfort-orientated Manitou MLT 741-140 V+ telehandler.
KVERNELAND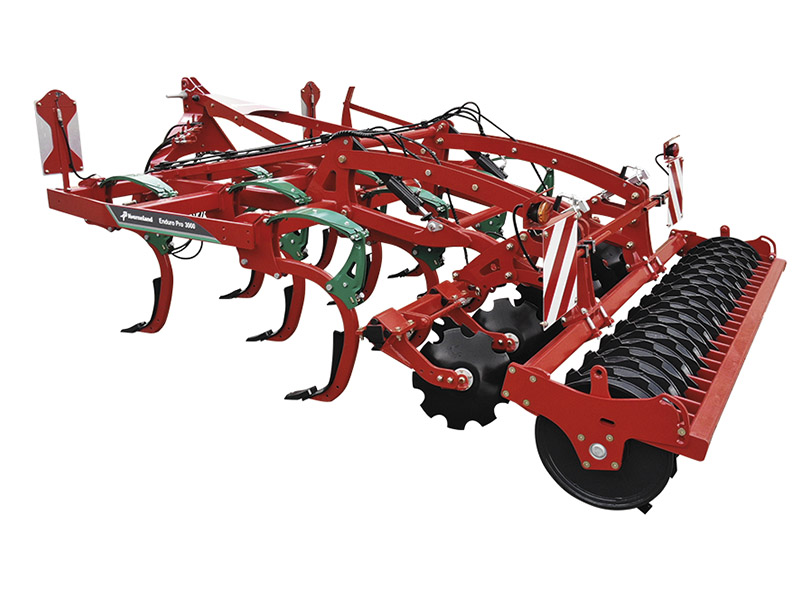 Kverneland's new Enduro cultivator promises to be the right choice for both, shallow stubble and deeper working depths. The Enduro carries out tillage of the soil, levelling and consolidating in one pass reducing costs and the risk of lost moisture to promote the weed regrowth.
Another great innovation is Kverneland's Turbo i-Tiller, a cultivator that has depth and level adjustments which are controlled directly from the tractor cab. This is also linked to On-The-Go Dynamic Traction Control for maximum economy.
Not going to Agritechnica? NO PROBLEM! We can give you all the details of the new machines and technologies, as well as arranging demonstrations as they become available.
Just contact your T H WHITE Agricultural branch