Cumberwell Park is Wiltshire's only 45-hole golf course is and certainly among the largest courses in southern England. What makes it even more unusual is the fact that it has always been owned and operated by the James family, ensuring not only a warm welcome for members, guests and visitors, but also bringing great attention to detail in creating and maintaining a course that is highly rewarding to play.
The newest addition at Cumberwell Park is a spectacular 9-hole Par 3 course which offers some great challenges to golfers in a superb setting, but it has added considerably to the task facing the 20-strong groundcare team led by Matthew James. To ensure that all 45 greens across the five 9-hole courses are maintained to the highest standard the Club has recently purchased a second Wiedenmann aerator from Stuart Fry at T H WHITE.
Matt James explains: "Regular deep spiking and deep aeration are important for healthy grass root growth, allowing the roots to penetrate deeper into the soil and thus make better use of water and nutrients. Around 10 years ago T H WHITE supplied us with a Wiedenmann GXi6 aerator which more than proved its capability and worth. Four years ago we upgraded to a Wiedenmann GXi8 which is 1.8m wide and has 32 tines –compared to the 1.4m width and 24 tines of the GXi6. That's important for us as it speeds up our work considerably. When we decided a second aerator would be essential to keep the additional greens in prime condition we went back to T H WHITE for another GXi8.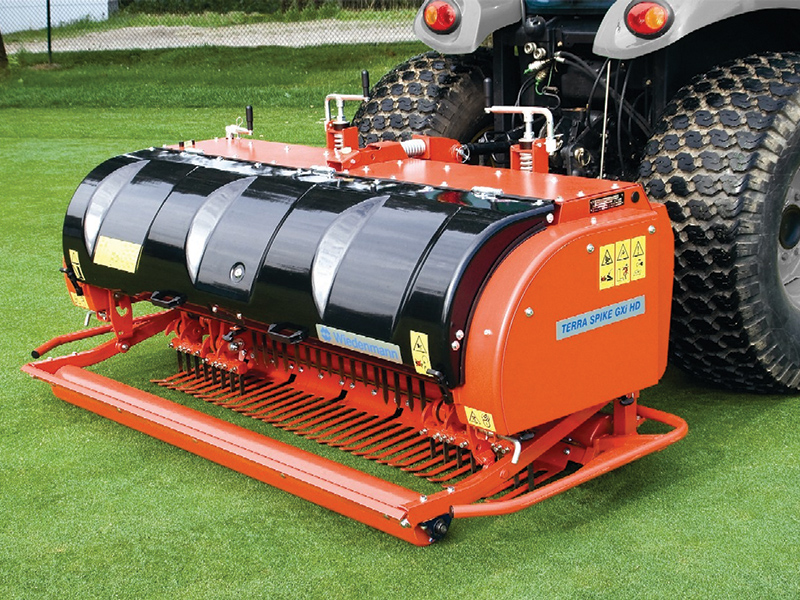 "Nine members of our team are regularly using the two aerators and they love them! Tine changing is really quick and easy thanks to Wiedenmann's exclusive 'QuickFit' System, meaning we can instantly fit the best tines for the job which tend to be 8mm tines – occasionally with core tines – on the greens in summer and 12mm solid tines in the winter to provide enhanced drainage and aeration.
"Settings and depth control are all done with easy-to-use levers unlike many other machines where you have to fiddle around with nuts and bolts, and there are just six greasing points to take care of. All this enables us to work efficiently and we have been using the new GXi8 on tees, surrounds and approaches as well as the greens. What more could we ask?!"
Testimony to the quality of groundcare at Cumberwell Park is provided by the fact that it is one of the select clubs chosen for the PGA Europro Tour and it has become a firm favourite among the players. If you are interested in raising the quality of your turf to these exceptional levels, find out what a Wiedenmann TerraSpike aerator can do for you by contacting your nearest T H WHITE Groundcare branch.