We are thrilled to welcome a seasoned industry expert, Mark Payne, to the T H WHITE Construction team. With a career spanning over four decades and a passion for customer satisfaction, Mark is set to make a remarkable impact as our newest Area Sales Manager working from our southern depot in Marlborough and overseeing a dedicated sales area north of the M4.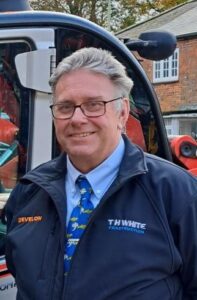 Mark's journey in the world of machinery began in 1979, where he started out specialising in selling tractors. In 1995, he joined the Northern Irish Government helping Northern Irish companies export to Europe. With a number of these companies being construction equipment manufacturers, he soon found a new role selling Daewoo machines in the South West of England.
Fast forward to 2023, and we're delighted that Mark has joined our team here at T H WHITE Construction. His extensive knowledge, coupled with a passion for delivering exceptional service, makes him a perfect match.
Mark's wealth of experience and strong customer relationships will undoubtedly be a fantastic benefit. He is committed to providing top-notch service, ensuring that you can rely on him for anything you need.
In his role at T H WHITE Construction, Mark will be focusing on sales for Manitou, Mecalac, and used equipment. Additionally, he will be looking to boost Develon sales within the B and SY postcodes.
Beyond his professional expertise, Mark enjoys a few hobbies in his spare time. You might find him tending to his allotment or admiring his collection of vintage motor cars, which includes a 1935 Austin 10 and a 1953 Riley RME.
Mark Payne's enthusiasm for sales, coupled with his commitment to building strong customer relationships, makes him a remarkable addition to our team. We look forward to working with Mark and witnessing the valuable contributions he will bring to our customers and the company. Please join us in extending a warm welcome to Mark as he embarks on this exciting journey with us!